Blackhawks: Was scratching Adam Boqvist the right decision?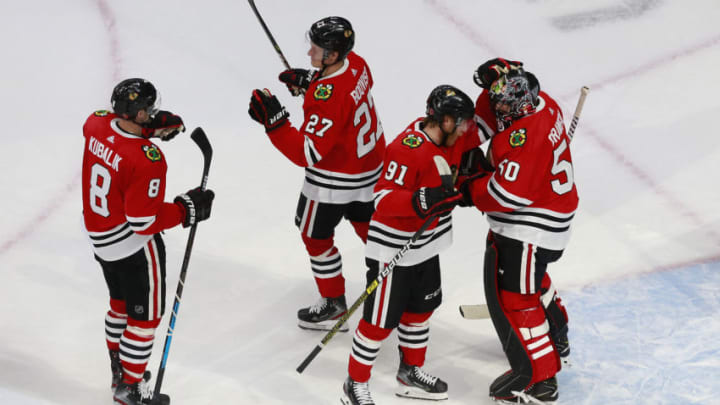 Chicago Blackhawks (Photo by Jeff Vinnick/Getty Images) /
The Chicago Blackhawks chose to scratch Adam Boqvist for game two of their series against the Vegas Golden Knights in the Stanley Cup playoffs, but was scratching him the right decision?
Adam Boqvist might not have been the best defensemen for the Chicago Blackhawks throughout their first-round against the Edmonton Oilers, but at the same time, this is a situation where you want him on the ice gaining some great experience. I was really shocked to see the team scratch him in game two especially when you consider that we are only at the beginning of this series still.
It seemed like Colliton tried to frame this as a rest thing, but I also think that the team wants to see what Lucas Carlsson is going to bring to the table for the Blackhawks in the coming years. While we already are going to have young guys like Ian Mitchell, Nicolas Beaudin, and Adam Boqvist around leading our blue line in the next five seasons, I guess it makes sense to see where Lucas Carlsson is at in his development.
Carlsson seemed a little overwhelmed at times during game two. I do not think Colliton regrets giving him an opportunity, but at the same time, I do not think we are going to see much more of him moving forward. Especially because of some of the mistakes he made in game two.
Carlsson looked lost at times and he looked overwhelmed against Vegas. He was a big reason for the Golden Knights' first goal as Carlsson found himself out of position and led Crawford out to dry on an easy tap in for the Golden Knights.
I think we are going to see Adam Boqvist back for game three and the rest of this series. The only reason I will agree with scratching him is if he comes back and has a rejuvenating burst of speed and skill due to the anger of being scratched.
"Chicago Blackhawks vs Vegas Golden Knights: Game 2 Recap"
We need our best players on the ice if we want a chance of coming back from a 2-0 deficit in this series, and I believe that Adam Boqvist is one of our best defensemen. Well, at least better than Lucas Carlsson that is.