Chicago Blackhawks vs Vegas Golden Knights: Game 3 Recap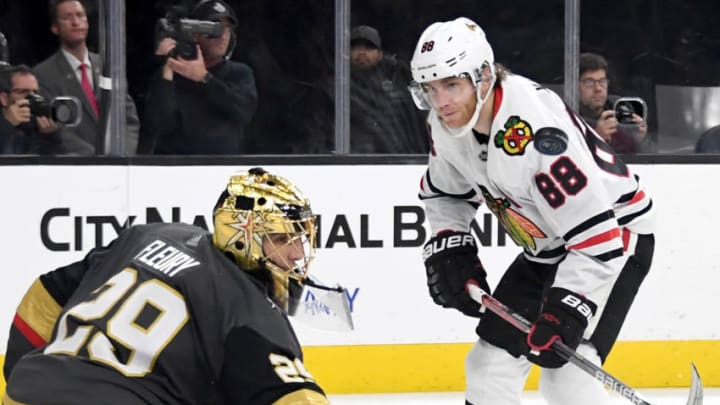 Patrick Kane #88, Chicago Blackhawks (Photo by Ethan Miller/Getty Images) /
Game 3 of the series between Chicago and Vegas started Saturday night, and it was a slow start again.
The Chicago Blackhawks are in the hole and need to find a way out. With only 24 hours between games 3 and 4, would they be able to do it?
Period 1 (C+ Rating)
Once again, both teams came out somewhat tentatively and it appeared as if this decisive match-up was going to get off to a slow start. That is until the Chicago Blackhawks gave up a short-handed goal.
Reilly Smith was called for a slash on Calvin de Haan, but poor puck management led to a goal by Vegas' William Karlsson.
Once again, Chicago was chasing the game early. This was obvious by the fact that Patrick Kane was seeing more ice time than usual early on.
Unfortunately, Chicago would immediately get called for a penalty of their own as Connor Murphy was called for interference. After that, the game stayed somewhat tilted in Vegas' favor as Chicago had difficulty establishing any significant time in the offensive zone, before evening back out again.
After a couple of decent shifts from Chicago, the Blackhawks would go back on the power play when Alec Martinez was called for holding on Kirby Dach.
Despite a few good looks, Chicago came away with nothing after a strong defensive performance by Vegas, especially Marc-Andre Fleury.
However, Chicago would get another chance when Reilly Smith would get called for tripping Alex Nylander. The penalty wasn't finished when the period ended, and Chicago would begin the 2nd period on the powerplay.
Shots on goal ended in Chicago's favor with 9 to Vegas' 6, but the score was in favor of the visitors.
Vegas up 1-0.
Period 2 (C+ Rating)
With Chicago starting the period on the power play, things were off to a great chance to tie the game. Once again, Chicago couldn't convert. To their credit, Chicago played strong enough defense that it took Vegas about six minutes to register a single shot on goal.
Unfortunately, aside from the power play, Chicago wasn't generating much offense as the two teams were effectively playing each other to a standstill.
With a 1-0 lead in the game, and a 2-0 lead in the series Vegas looked like they might be content to simply stifle Chicago's game as much as possible, rather than try and run up the score. Vegas would head to the power play after Slater Koekkoek took an interference penalty after a huge collision with Mark Stone in the neutral zone.
The Golden Knights would come up with nothing on the man advantage, and Chicago was able to kill off yet another power play.
Once the penalty was killed off, the teams were back and forth for a couple of minutes before Chicago was called for another penalty, this time it was Nylander for hooking on Mark Stone.
Chicago's response to the kill was immediate. They took the puck back into Vegas' end started pressuring Fleury straight away.
However, Vegas came right back into Chicago's end and scored their second, this one by Patrick Brown.
Try as they might, Chicago continued to have difficulty keeping the puck in the offensive zone.
At the end of the 2nd period, Brayden McNabb was called for boarding, and Chicago went to the power play. Once again they'd end the period with the man advantage, and the penalty carried over to the 3rd period.
At the end of 2, Vegas was up 2-0 with a lead in SOG 18-16.
*Of note, Alex DeBrincat was credited with 6 SOG after two periods.
Period 3 (B+ Rating)
Do or die time for Chicago, as the third period started. The team came out to finish their power playoff and came up with nothing.
The score stood at 2-0 despite some more good looks.
Yet, Chicago finally looked like a team that realized that they were on the verge of digging themselves into a 3-0 series deficit, and started throwing everything they could at Vegas.
The game was entirely in Chicago's favor as Vegas looked like they simply couldn't get control of the puck, and effectively take the game to Chicago's end.
It took Chicago 21 shots, but they finally got one past Fleury and cut the lead to one.
Maatta had the tally.
After that, Chicago kept the pressure on, but the game started to open up as the teams began to trade chances.
With the clock ticking, Chicago was still looking for an equalizer.
The game then reached a wild point where neither team looked like they could control the puck, and things looked entirely haphazard. Shots were still happening, but each team kept giving the puck away and then scrambling to retrieve it.
At this point, Vegas was doing everything they could to kill the clock, looking to grind out the game with the 2-1 lead intact.
Chicago pulled Crawford with about 2 minutes to go, but it was to no avail.
Chicago lost game 3 and found themselves in a 3-0 deficit.
Overall (B- Rating)
The Blackhawks are now in the toughest situation they've been all season, just one loss away from going back to Chicago. They still have a chance to make the series respectable and still come back, but they have to take it game-by-game.
This will be very interesting to see, espically with this being Colliton's first time in the playoffs. Hopefully, Chicago can win their game tomorrow.
"Blackhawks: What to do on Monday if Chicago is swept"
The Blackhawks play tomorrow at 5:30 PM CT. If they win, they're still in, if they lose, the season is over for the Blackhawks.