Blackhawks: 3 Picks Chicago Could Make In The 2020 NHL Draft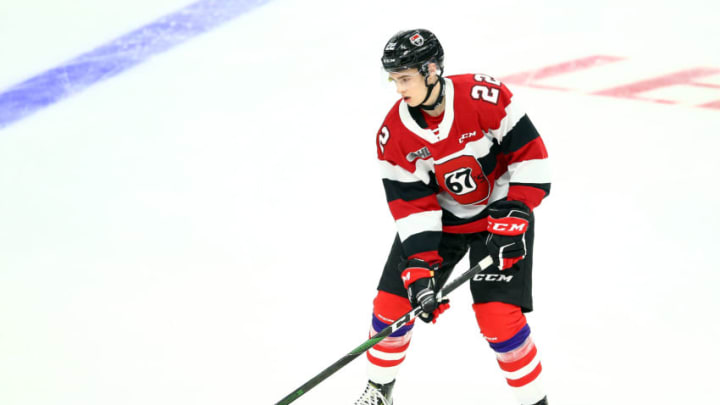 Jack Quinn #22, CHL Team Red (Photo by Vaughn Ridley/Getty Images) /
The Chicago Blackhawks have the 17th-selection in the 2020 NHL draft. After the first round, they still have six other draft picks.
Blackhawks' First-Round Pick: Jack Quinn
The Chicago Blackhawks will be looking to add more talent to their forward group during the 2020 NHL draft. There are a few solid options for them at 17. A forward can wait at 17 if goalie Yaroslav Askarov is still on the board. If he isn't, Chicago should be looking at one of the fasting prospects in the draft, Jack Quinn.
Jack Quinn is an 18-year-old right-winger who is projected to go somewhere in the middle of the first round. He's been ranked as high as 6th best player in the draft, with some scouts seeing him as the 20th best player in the draft.
Quinn, along with Askarov is expected to be picked before 17, but if the Hawks have a chance to select either player, they'll do so.
In this case, Quinn is their guy. Last season, Quinn had 89-points (52G, 37A) in 62-games with the Ottawa 67's of the OHL. Quinn is a goalscorer and can be a solid player in the NHL. He would be a solid addition to the Hawks and would fit well on a line with Kirby Dach shortly.
I think he needs one more year of development before being tossed into an NHL lineup. If Chicago drafts him, their best bet is to give him a few games in the NHL, but keep him under the 9-game mark, so they get an extra year of his entry-level deal. A year in the AHL can help Quinn become more NHL ready.
He's been compared to Mark Stone, which is a solid comparison. If he can live up to that comparison, he will be a solid NHL player for years to come.
Blackhawks' Second-Round Pick: Luke Tuch
The brother of Vegas Golden Knights forward Alex Tuch, Luke Tuch is projected to be a second-round talent in the 2020 NHL draft. Luke Tuch played for the U.S. National Under-18 Team last season, scoring 14-points in 19-games.
He isn't NHL ready yet, but that doesn't matter, as he will be playing in the NCAA for at least the 2020-21 season. Time in the NCAA will give him a chance to add more size to his frame. He is compared to his brother's game in many aspects, which is a huge bonus for his draft stock.
The 6-foot-2 forward has 53-points in 95-games career games with the U.S National Under-17 and Under-18 Teams. Not only does he bring a solid, physical presence to the ice, but he will also progress as an offensive talent in his college years.
He is an underrated prospect and has the chance to be a real draft steal for whichever team picks him – come October.
Blackhawks' Third-Round Pick: Joni Jurmo
The Blackhawks have two third-round picks, so if they were to trade up in the draft, those two could be used to do so. If they don't, Joni Jurmo is a solid prospect for the Hawks to pick.
Jurmo is a 6-foot-4, physical defenseman, who is solid on his edges. He will be playing overseas for the next few years, so he is a prospect for the future. In a few years, Jurmo will be a force in the NHL.
He makes little-to-no mistakes when he's out there on the ice and has a bright future ahead of him. In 41-games last season, he scored 27-points (5G, 22A). He has a solid shot, which makes him a presence at the point.
Jurmo is another player who could be looked at as a steal, once he is brought to the NHL. His big size is something that the Hawks have lacked for a few years. Though Chicago has some solid defensive prospects, drafting Jurmo can be a game-changer for this team a few years down the line.
"The best choices for the Blackhawks at the 2020 NHL Draft"
Scouts have compared Jurmo to a bigger Nick Leddy. Whether he ends up living up to that comparison or not, that shows the belief they have in his offensive game, along with his stay and home defensive game.