The Chicago Blackhawks Rebuild May Be Coming Soon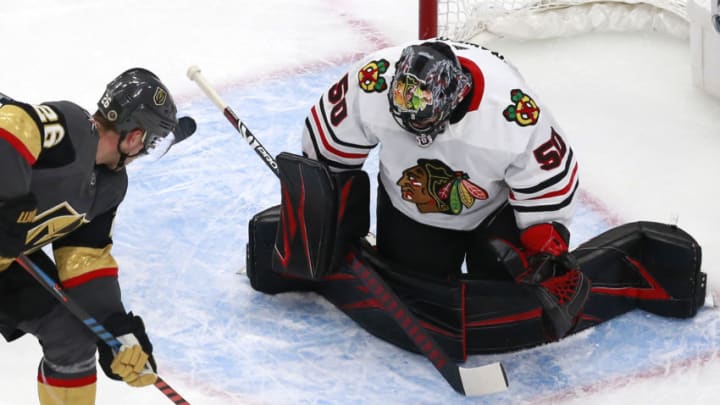 Corey Crawford #50, Chicago Blackhawks Photo by Jeff Vinnick/Getty Images) /
In light of recent news, it looks like the Chicago Blackhawks are headed in a new direction. We will obviously know more after Friday's trade deadline, however, it doesn't look as though Chicago will be actively trying to improve the roster.
It appears Stan and Co. are ready to give Rockford mainstays their crack at proving themselves in the big leagues. As the Chicago Blackhawks have announced they are moving on from Corey Crawford.
The Chicago Blackhawks are also rumored to be shopping Brandon Saad (who I think was involved in Bowman's push for Askarov). If both Crawford and Saad were to depart, it would be clear that the Blackhawks have shifted from "win now" priorities to a stronger focus on the future.
Blackhawk fans also got that indication from this week's NHL draft which saw the Blackhawks take players that seem to be long-term projects. Even first-round pick, Lukas Reichel, is at least two years out.
Personally, at this point, I believe the rebuild is a bit overdue. The Blackhawks have been going nowhere in the past few years and weren't a playoff team until COVID this year. While it was nice to see some rejuvenation in the roster after the qualifying round it was still evident just how far off the Blackhawks are from being contenders again.
More from Blackhawk Up
With the rebuild in mind, I am not saying to trade Blackhawks legends like Jonathan Toews and Patrick Kane who still have a lot to give. But trading pieces like Brandon Saad or Connor Murphy could be a worthwhile move.
With that said though, the Blackhawks don't have that many quality pieces to move outside of Saad, (given Toews, Kane, and Keith are not options) therefore, any sort of true rebuild will take time.
The Blackhawks are looking to bring back more youngsters in Dominik Kubalik and Dylan Strome. Not to mention the Blackhawks blueline that is already seeing a major shift in the way of age and experience.
The Blackhawks should look to follow in the footsteps of New York who, although, were very fortunate to win this year's draft lottery, were already one their way to a successful rebuild. It starts with the draft and stockpiling picks and making the right ones with those picks. Bringing in free agents and European talents is also a major step.
The Blackhawks should let these young goalies have a shot. Who knows, maybe they prove themselves; maybe they don't. Regardless, overpaying in free agency or via trade is something the Blackhawks can't afford to do.
Their best bet is to sell what they can for assets and keep this young roster. Let the young players learn from veterans Toews, Kane, Keith, and Seabrook.
I know there are many fans who believe it could be time to move on from guys like Toews; however, his pedigree along with the other top veterans are invaluable to providing an example to the young guys on how to be pros. It will help them develop faster while also helping with the transition from the post Kane-Toews era. Change looks to be coming Blackhawk fans.