Chicago Blackhawks Make A Trade Involving Brandon Saad Yet Again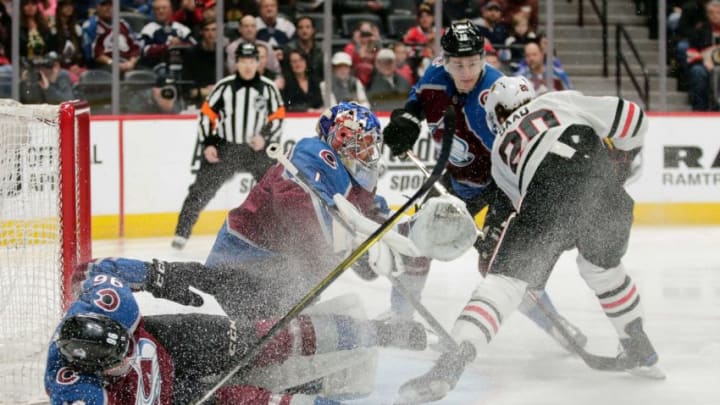 Chicago Blackhawks, Brandon Saad, Nikita Zadorov Mandatory Credit: Isaiah J. Downing-USA TODAY Sports /
The Chicago Blackhawks sent Brandon Saad and Dennis Gilbert to the Colorado Avalanche for Nikita Zadorov and Anton Lindholm on Saturday night.
Pick a side, Stan Bowman. First, the Chicago Blackhawks trades Olli Maatta away in order to help make room for the Blackhawks young defensemen in their system. Next, the team decides not to bring back Corey Crawford in order to give more young players a chance. Now, the 'Hawks trades away Brandon Saad for two 25-year-old defensemen.
Chicago's defensive long jam just got a little bit bigger. Now the team has Duncan Keith, Brent Seabrook, Calvin de Haan, Nikita Zadorov, Anton Lindholm, Adam Boqvist, and Ian Mitchell all available for the team next season. Bowman went from trading away Maatta and not re-signing Slater Koekkoek to adding these two players in a trade for Brandon Saad.
Before we talk about what the Blackhawks got in return, let's talk about what they gave away. Dennis Gilbert has the potential to be a bottom-pairing defenseman. He played great when he had a chance with the team this year, and he played with a lot of physicality. Now the big piece in this trade was Brandon Saad.
Saad had one year left on his contract which was costing the Blackhawks six million a year. This was a horrible trade in my mind. Not only did Bowman not get any prospects or picks back, but he also kept one million of Saad's salary during the trade.
Brandon Saad has been involved with a lot of trades throughout the past five years, and each one has been bad in their own ways. While Saad could not live up to the hype of Artemi Panarin, he was a great player with the Blackhawks. I wish him the best with Colorado, and hope he can win a cup there soon!
Now, let's talk about some of the players Chicago got in return for this trade. Nikita Zadorov was signed by the Blackhawks for 3.2 million for one year. Zadorov has a lot of size at 6'6″ and played in 64 games with Colorado last season. Check out Zadorov's full stats thanks to hockey-reference.
After this trade, the Blackhawks have 9.17 million in cap space according to Puckpedia honestly it is anyone guess what Stan Bowman will do next, but one thing is for sure. They are not done making moves.
Zadorov is definitely the more prominent piece in this trade. Lindholm is similar to Gilbert where neither has really proven themselves in the NHL. I guess Chicago is going to give him a shot next year unless they make another move to address the forward group now that Saad is off of the team.