All The Chicago Blackhawks On Expiring Contracts in 2021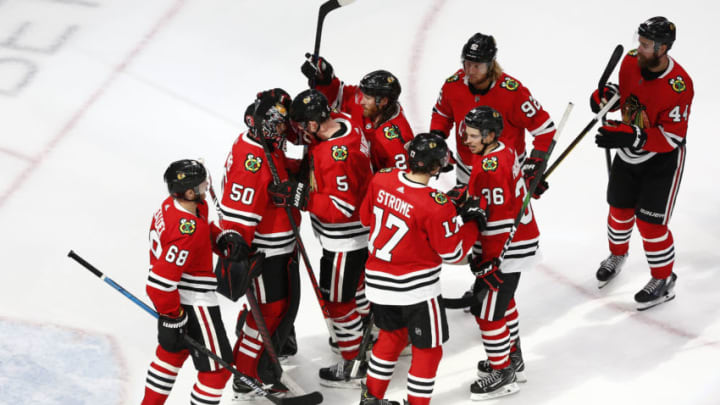 Chicago Blackhawks Mandatory Credit: Perry Nelson-USA TODAY Sports /
The Chicago Blackhawks are keeping the door open for change within the next few years. Stan Bowman has set the Blackhawks up to have assets to sell at the deadline, so let's look at all of the players on expiring contracts.
Remember when Stan Bowman traded Niklas Hjalmarsson and Artemi Panarin for Connor Murphy and Brandon Saad because the two had an extra few years on their contracts? Bowman was all in on cost certainty, but now that direction seems to have changed for the Chicago Blackhawks.
Stan Bowman has countless players on contracts that will end after the 2021 season. This leaves the door open for Bowman and company to change this team's direction and maybe even seek some of these players at the deadline.
Let's get acquainted with all of the Blackhawks with just one more year left on their deal; this list is larger after the trades and signings Stan Bowman has made the past few days.
Zack Smith played in 50 games this past season with the Chicago Blackhawks. During that time, he put up 4 goals and 7 assists in the Blackhawks bottom six. His contract is worth 3.25 million, so trading him is going to be hard.
Mattias Janmark 
Chicago just added Mattias Janmark in free agency. The former Dallas Star is on a one year contract for 2.25 million. He plays a similar role to Andrew Shaw or Drake Caligula, and he should be able to help the team play more physical and be more productive in the bottom six.
David Kampf (RFA)
David Kampf is in the final year of his 1 million dollar contract. This means the team will have to decide whether or not to re-sign the 25-year-old at the end of this contract or deal him for some picks. Kampf will not provide a lot of upside in a trade, but he is an integral part of the team's PK and defensive play.
More from Blackhawk Up
Lucas Wallmark (RFA)
Chicago just signed Lucas Wallmark yesterday. Stan Bowman signed Wallmark for 950,000. The 25-year-old will have a chance to prove whether or not he belongs with this team moving forward. If Chicago is selling at the deadline, I could see him being a trade piece for picks and prospects as he is a productive third liner.
Alexander Nylander (RFA) 
Stan Bowman wants to see Alexander Nylander succeed with the Blackhawks, especially after trading away a defenseman to add him to their roster. Nylander needs to be better to earn a contract next season. While moving Brandon Saad and possibly passing on Dylan Strome will open some spots, Nylander needs to be better.
Nikita Zadorov (RFA)
Chicago just added Nikita Zadorov to their blueline in a trade for Brandon Saad. If the team was so high on Zadorov that they were willing to keep a million of Saad's contract, I am shocked that they did not sign him for more time. Hopefully, the next offseason will include a contract extension for Nikita Zadorov, assuming he fits in the team's top four.
Nick Seeler is 27 years old, and he can be a good enough seventh defenseman for the Blackhawks assuming the team needs him. Seeler only played in six games last season with the Blackhawks; during that time, he had one assist and played an average of 13:32 minutes a night. I would not be surprised if the team plays Seeler a little more this season, but they also have to worry about Adam Boqvist and the young players.
Pius Suter 
If all goes well for the Blackhawks, Suter will ask for a few million next summer. Chicago is hoping Suter can be the next Dominik Kubalik for this offense and that he can take on a leading role in the team's top six. While he is listed as a left-wing, he can hopefully play on the right side on our top line with Toews and Kubalik.
Other players on expiring contracts:
Brandon Hagel, Brandon Pirri, John Quenneville, Brad Morrison, Lucas Carlsson, Anton Lindholm
All of these players are going to get chances in the NHL next season. I just grouped them together because they are not going to be guaranteed roster spots until we see how they perform at training camp.
Chicago should bring back a lot of these players next season, or they might trade them away at some point next year. Either way, change is coming to the Blackhawks.