Five Chicago Blackhawks that could be traded by the trade deadline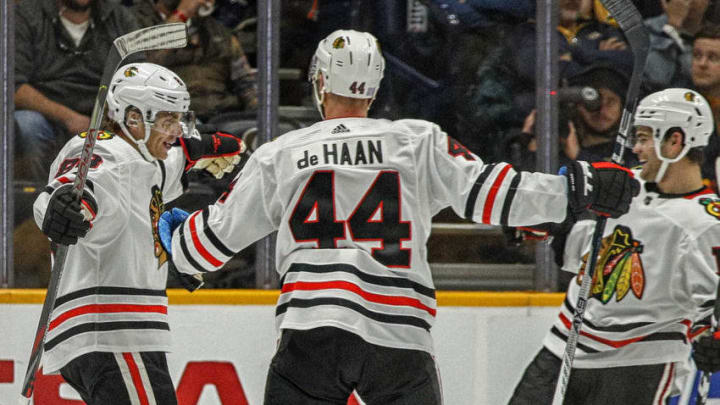 Calvin de Haan, Chicago Blackhawks (Photo by Frederick Breedon/Getty Images) /
Calvin de Haan, Chicago Blackhawks (Photo by Frederick Breedon/Getty Images) /
The Chicago Blackhawks are a team that is planning on rebuilding over the course of the next few seasons. This trade deadline could offer an opportunity to add some assets to the team.
The Chicago Blackhawks have a lot of moveable parts. While nothing is for sure yet as the season has not begun, let's look down the line at how the Blackhawks can add some assets.
The 'Hawks are going to want to make sure they put a few players on display throughout the first couple of months of the season. Having any of these players play their best throughout the season is going to help the Blackhawks get a better return.
We all know the Blackhawks are going younger. While their moves the past few weeks might not seem like they are doing a pure rebuild, their words have. So this new season will offer an opportunity to get some of the older players off of this roster, and hopefully, add some new prospects along the way.
So, let's jump in with the five Chicago Blackhawks the team should deal before the deadline this coming season. We will highlight the player, why they should be traded, and what a good return could be.
Ryan Carpenter is under contract with the Chicago Blackhawks for the next two years at just a million dollars. He is a great piece to any team's bottom six and he could help play a role on a team competing for the Stanley Cup.
Carpenter is not going to be a Chicago Blackhawk forever. By the time the Blackhawks start competing for a Stanley Cup he is going to be in his middle thirties as he is currently 29. At just a million dollars, a championship team that needs a good fourth liner should look at Carpenter. He can help with their penalty kill and win some faceoffs, and in return, the Blackhawks could maybe add a few draft picks or a prospect. Nothing too high, but a third-rounder could be a nice return.
If the Blackhawks manage to add a third or fourth-round draft pick for Ryan Carpenter they are gaining an asset that could potentially turn into a future NHL player for this team. Carpenter has been apart of some successful playoff teams in the past in Vegas and San Jose, his experience would be great for any team. Chicago also has some other players that could be dealt.