Chicago Blackhawks Can't Have As Many Losing Streaks Next Season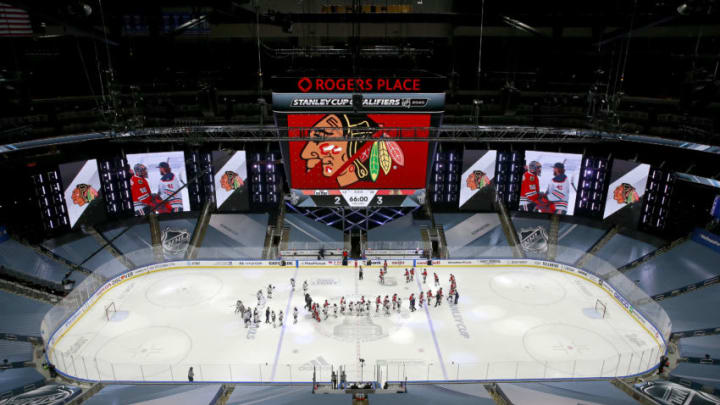 Chicago Blackhawks (Photo by Jeff Vinnick/Getty Images) /
While the Chicago Blackhawks will be a younger, more inexperienced team next season, that does not mean they should be making excuses in the case of lousy play down the line.
Chicago should have some exciting hockey on their hands whenever the season does kick back up within the next few months. I believe the Chicago Blackhawks should be fast and exciting to watch. While they might not be competing for the playoffs, they will be competing for long term answers.
Fundamentally I hope the Chicago Blackhawks take a step forward next season. Last year it seemed like the 'Hawks got complacent at times, and fell into long losing streaks because of it. The team did struggle with injuries and, at times and seemed to fall into a daze at the bottom of the standings.
Chicago had three three-game losing streaks, two four-game losing streaks, and one five-game losing streak last season. Those types of streaks end a season, no matter how much success follows it. Twenty-two losses throughout six different sets of games and not a win was recorded during that time.
Chicago did have three long winning streaks last year, as well. They had one four-game, five-game, and a six-game winning streak last season in all that comes out to 15 big wins last year. While winning streaks are nice, it is not the long term answer for a team like the 'Hawks.
More from Blackhawk Up
Instead, suppose Chicago can limit their losing streaks to just two or three, instead of allowing four or five-game losing streaks. They will be better off because of it. If that means changing up lines more often or allowing the players to work things out amongst themselves, that could be the difference next year.
I would rather see Chicago win every other game instead of going on streaks like they did last season. It was not a fun thing to watch, as the 'Hawks lost every game during a week as a fan. Every time they took a step forward in the standings last season, three leaps in the wrong direction followed.
With the different format the NHL will be facing this season due to COVID-19, it looks like Chicago could end up playing the same opponent multiple games in a row or spend a lot of time on the road at one time. While it is comforting to think every team is in the same boat, Chicago must find a way to make sure a two-game losing streak doesn't turn into three or four.