Blackhawks: Teply and Krutil look to secure roster spots at World Juniors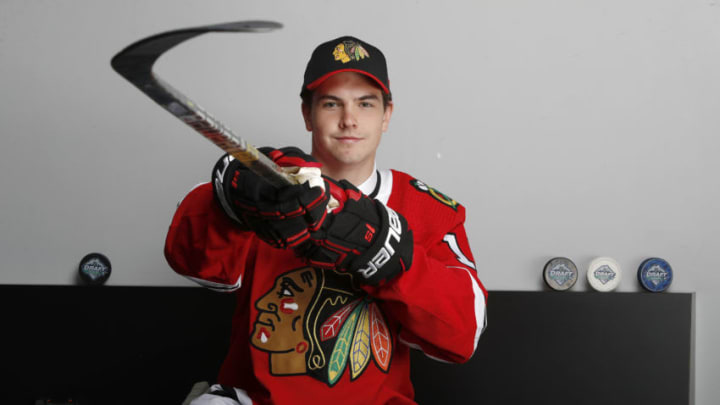 VANCOUVER, BRITISH COLUMBIA - JUNE 22: Michal Teply poses after being selected 105th overall by the Chicago Blackhawks during the 2019 NHL Draft at Rogers Arena on June 22, 2019 in Vancouver, Canada. (Photo by Kevin Light/Getty Images) /
With the majority of the IIHF World Junior teams announcing their final rosters, most players have secured their spots. However, a few clubs are still finalizing their players, which could prove advantageous for two Blackhawks prospects.
It was announced on Friday that Chicago Blackhawks prospects Michal Teply and Michael Krutil had made the 28-man roster for their native Czech Republic, giving them a chance to play in the upcoming World Junior tournament. This comes after the pair were invited earlier this month to the Czech team's training camp
Unlike Team Canada and Team USA, the Czech national team has not yet completed their finalized rosters for the tournament. Although they have trimmed down to 28 players from training camp, teams can only enter the World Juniors with a 25-man roster, meaning that the Czechs will soon be saying farewell to an additional three players before the games start.
While there is stiff competition among the Czech team to stay on the final roster, there is a good chance that at least Teply or Krutil, if not both, make the team. Both players are young fourth-round picks, and although they obviously have no NHL experience, they could still add a lot to an international team.
Teply, a left winger, was born in Havlickuv Brod, Czech Republic and spent this past season with the WHL's Winnipeg Ice, putting up a very respectable 63 points. He also has previous international experience, having played for a number of under-18 tournaments. This should at least give him an edge going into the final round of cuts by the Czech team.
On the other hand, Krutil, a native of Prague, should also be impressive to the coaches making the final decision, as he brings international experience as well. Aside from this, he has spent the past few seasons playing in the Extraliga, the highest ice hockey league in the Czech Republic.
While the Czech team doesn't have great odds to do well in the upcoming World Juniors, giving both of these players a chance on the biggest stage in junior hockey could do wonders for their development. While fourth-round picks may or may not pan out in the NHL, the Blackhawks need all of the help that they can get right now, and giving these two prospects a a chance to play is never a bad thing.
Team rosters will need to be finalized soon, with only a few weeks until the tournament begins, so we should find out rather quickly if the duo made the final cut. The 2021 IIHF World Junior Championship is slated to begin on Christmas Day, culminating in the gold medal game on Tuesday, Jan. 5.