Analysis
Chicago Blackhawks: 3 keys to success for Collin Delia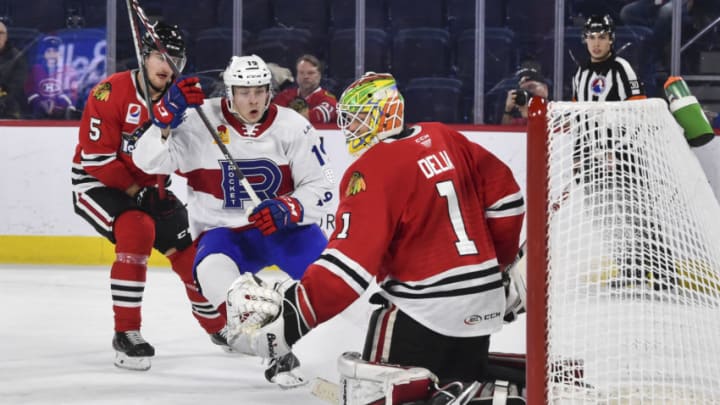 Collin Delia #1, Chicago Blackhawks (Photo by Minas Panagiotakis/Getty Images) /
Collin Delia #1, Chicago Blackhawks (Photo by Minas Panagiotakis/Getty Images) /
Collin Delia is getting ready to take the next step with his career in Chicago.
Over the summer of 2020, Malcolm Subban suited up to back-up Corey Crawford for the Blackhawks. That was just a few months ago, but Crawford will now be in the crease for New Jersey, and Subban will be pushing for the starter's spot in the line-up. However, he's not the only one.
Furniture-builder by day, hockey player by night, Collin Delia will be stepping up for the Chicago Blackhawks to try and take the net for himself. There is no one penciled in as a starter for the team, and Delia is one of three candidates that will be making a case to the "the guy" in the net. Does he have what it takes?
Sure! At least much as anyone else among Chicago's goalies does. Delia has spent his time with Chicago primarily playing for their AHL affiliate, the Rockford IceHogs. To his credit, Delia has been a key player in Rockford and done an admirable job in net for them.
He doesn't have a ton of experience, but his numbers are OK. The AHL's site has Delia's numbers for his time with the IceHogs, and they fluctuate but look fairly respectable. Since he joined Chicago in 2017-2018, his SV% is a cumulative 0.912. While this isn't amazing, it also isn't terrible. What's missing is a body of experience in the NHL.
That missing experience will come this year. He's put in a couple of years in Rockford, and he's shown what he can do in the AHL. Regardless of what was going to happen with the goaltending situation in Chicago, Delia has earned the chance to prove himself in the NHL. Here are three keys to success for him in 2019-20.