Blackhawks: Who will play with Dominik Kubalik this season?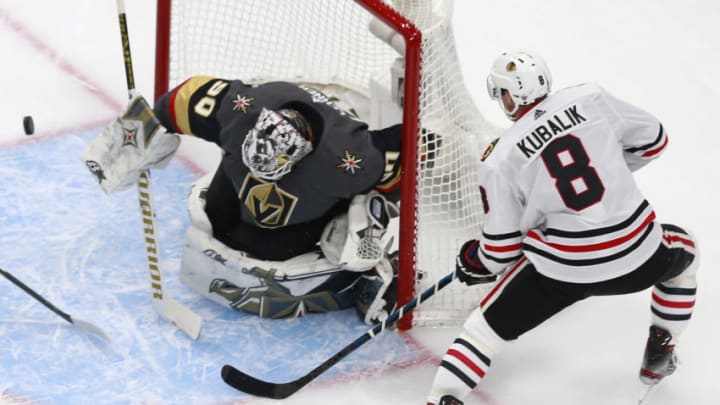 Dominik Kubalik #8, Chicago Blackhawks (Photo by Jeff Vinnick/Getty Images) /
The Chicago Blackhawks need to figure out who is going to play with Dominik Kubalik.
The Chicago Blackhawks top six is lacking, but one thing is for sure, Dominik Kubalik will be apart of it. A former Calder Trophy finalist, Kubalik, will want to be back at a top-level this season, but that will only happen if Chicago gives him some talented players around him.
A lot of different players could be paired with Kubalik. The Blackhawks winger is highly skilled and can provide anyone around him with a passing option when a big goal is needed. Kubalik was Chicago's one-time master last season, as different players set him up for great goals throughout the season. Seeing if the 'Hawks can recreate the magic they had with Kubalik last year is critical.
One player that could be paired with Kubalik this season is Pius Suter. Suter is set to have a sizeable role with the Blackhawks after signing this summer, and honestly, I hope the two spend time together this year.
Suter and Kubalik shared similar backgrounds, both from overseas and transitioning their game to the NHL lineup. Suter might be the best player that can match Kubailk when it comes to playing ability.
Here were the lines at camp yesterday; it very well could be an indication of what we see this season.
There still are pieces missing from the lineup; one such player is Carl Soderberg. Now, if Chicago wanted to, they could pair Kubalik and Suter on the wings and put a player like Soderberg in between them this coming season.
Finding an effective center for Kubalik this year is essential, considering he is used to playing with Jonathan Toews. While Suter at center might be ideal, it comes down to if he can truly be the best at that position.
"Joel Quenneville back in the central will be frustrating for the Blackhawks"
The Blackhawks need someone who can win faceoffs and be a force within the offensive and defensive zones. Someone that can play in all corners of the ice. Personally, I think that Andrew Shaw or Carl Soderberg will work best for Kubalik, but Wallmark very well could prove me wrong and take over the second line.
Who do you think will be paired up with Kubalik this season? We will know within the next few days!