The Blackhawks' power play has been lights out this season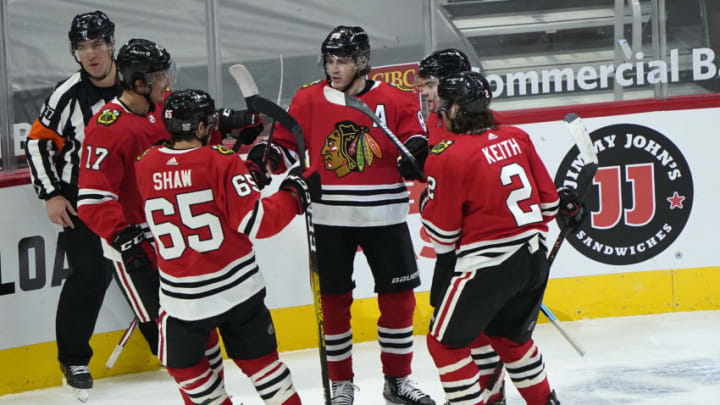 Chicago Blackhawks Mandatory Credit: Mike Dinovo-USA TODAY Sports /
The Blackhawks' power play has factored into every game thus far, and that is not a bad thing. Any team wants to have their power play be automatic, but for the Chicago Blackhawks during a year where there is a struggle to find something good on the ice, having a good man advantage is nice.
Thus far this season, Chicago has eight power-play goals in six games. It has been a group effort in making the 'Hawks power play so great, but there are a few players to point out, in particular, to help spark the power-play success.
Alex DeBrincat has two goals and two assists on the man advantage, Dominik Kubalik also has two goals, and Patrick Kane has a goal and two assists. While Adam Boqvist struggled on the man advantage at times looking like the young player he is, he still does have two assists on the power play.
Chicago's success on the man advantage in large part has to do with how well they are doing at keeping the puck in the offensive zone. Yesterday's goal on the power play came after a keep in the offensive zone, and then a great job by Mattias Janmark to put the puck towards the net. Chicago is not backing down to opponents as they used to do during a power play.
The Chicago Blackhawks power play has been great, and now the challenge remains whether or not it can be a factor every night.
Here is how the power play groupings have looked thus far this season (from dailyfaceoff.com)
First Power Play Unit: 
Andrew Shaw – Dylan Strome – Patrick Kane
Alex DeBrincat – Adam Boqvist 
Second Power Play Unit: 
Mattias Janmark – Carl Soderberg/Lucas Wallmark – Pius Suter
Dominik Kubalik – Duncan Keith 
I would not mind seeing the Blackhawks shake the groupings up for their power-play units, but that won't come until they go on a dry spell for a few games. A dry spell will happen, as it is just not possible to score a power play goal every night.
The power play has looked fantastic, doing their best to put pucks on net and get as many scoring chances as possible while also keeping possession of the puck. Still, the penalty kill needs some work.
The Blackhawks need to stop taking so many penalties. Chicago had five penalties yesterday against Detroit, and the Wings capitalized on two of them. Chicago has given up seven power-play goals, which is above the league average by a decent amount. Yes, the Blackhawks' power play has looked pretty good from time to time, but overall the team can not take as many penalties.
The Wallmark and Janmark pairing on the penalty kill is a recipe for success, and it seems like no matter who is out on the ice, the entire team is confident in burning the clock on the penalty kill while also going up on a rush to try and get a sneaky goal. But the success of the PK goes down the longer they are out there. Taking five penalties equals 10 minutes on the penalty kill or a sixth of a game. Spending a sixth of a game short-handed is not going to end with a W in most cases.
The real test will begin for the Blackhawks when they play the Nashville Predators on Tuesday night. With the 'Hawks having rookie goalies and a young roster going up against a division foe will be challenging. Should Chicago win the special teams' battle against the Predators, they might be able to come away with a win.