Adam Boqvist could Thrive in the Blackhawks' New System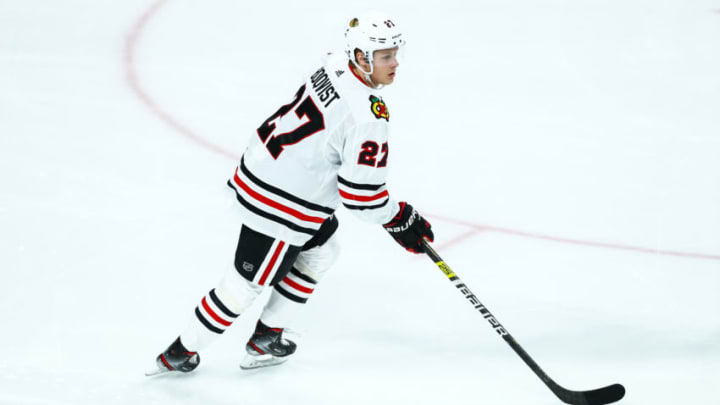 Adam Boqvist #27, Chicago Blackhawks Mandatory Credit: David Berding-USA TODAY Sports /
Adam Boqvist was drafted eighth overall by the Blackhawks in 2018, and he could have an opportunity to really show why he was drafted there. He has outstanding speed and great offensive awareness, which will be very beneficial in the "track meet" playstyle the Blackhawks possess.
As, say, Patrick Kane goes up the ice, catching the opponents in a line change and a defenseman joins him for a 2 on 1. So far, the Blackhawks have defensemen who are defensively sound, but not very many who can finish chances.
Boqvist could have switched over to the forward position after his offensive output in his first year in junior hockey: 60 points, 20 goals, 40 assists. He is an offensive defenseman who can score, pass, and create plays, and, with this new system, won't be overwhelmed on the rush anymore, hopefully, paired up with Calvin de Haan or Connor Murphy when he comes back.
Because the 'Hawks can trade chances back and forth with the opposition, which wasn't the case when Boqvist was placed on COVID-19 protocol. With Boqvist in the lineup, you essentially have four forwards on the ice at one time.
With this new system the Blackhawks are running, Adam Boqvist could finally show his offensive abilities.
More from Blackhawk Up
He could carry the puck into the zone on an odd-man rush and be trusted with that play, have a great chance of scoring on that same play, or be the guy coming down the ice with the puck carrier to finish the play with a shot on goal.
As I covered here, the backcheck almost always has three guys back in the defensive zone to defend the rush. Something about Boqvist was that he wasn't very confident defending the rush, especially on a 3 on 2 or a 2 on 1. With a third guy back, it should relieve the pressure Boqvist dealt with playing in the prior system.
Essentially, Adam Boqvist is very Erik Karlsson-like, with high offensive upside. But Karlsson was able to hold his own in the defensive zone for the most part while providing quite a bit of offense. He has the talent to carry the puck into the zone when he pinches up to start a play, or follow up an odd-man chance to finish the opportunity.
Boqvist is only 20 years of age, so he has plenty of time to ease into the NHL, but the Blackhawks have quite a few prospects who could push for playing time pretty soon, so he will need to prove himself in-game.