The Blackhawks need to take the next step in the right direction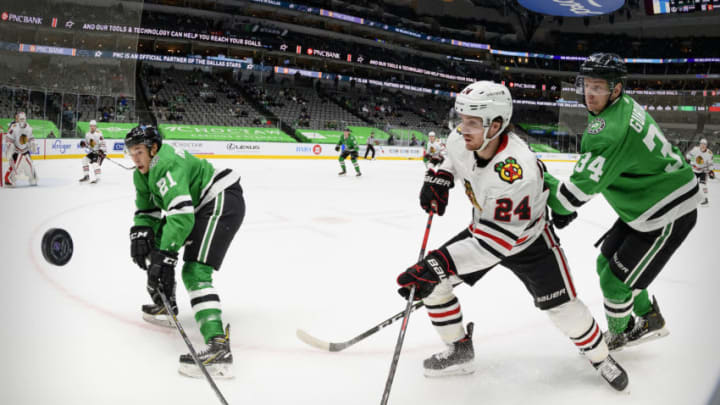 Chicago Blackhawks, Pius Suter Mandatory Credit: Jerome Miron-USA TODAY Sports /
The Chicago Blackhawks have surprised a lot of people with their play this season, but now it is time for them to take the next step.
Chicago is 6-4-4 this season, and in their last ten games their record is 6-1-3, this is not bad for a team supposedly going through a rebuild. In large part, their great play is thanks to the young rookies coming into the organization and shocking new life into this team.
While their season has been electric thus far, whether or not they are going to be a playoff team is still up in the air. Personally, I think Chicago needs one more season outside of the playoffs adding another high-level draft pick, but if the team does push to the playoffs with this group I won't complain.
Chicago is winning games, but they are not doing it in a big fashion. Detroit was an awesome series to watch, but outside of that great performance things have been close for the 'Hawks. In order to get an idea of how the team can improve let's look at what is coming up on the schedule.
The Chicago Blackhawks need to take another step in order to ride the hot streak even further.
The Blackhawks have played like this in the past. So far under Jeremy Colliton Chicago has had numerous streaks, both good and bad. The main issue for the team is while they are playing well right now, at some point the pendulum will swing the other way as their luck drains.
The Blackhawks will play two home games against Columbus on Thursday and Saturday, then they will head to Detroit for games on Monday and Wednesday before heading to Carolina for games on next Friday and Saturday.
More from Blackhawk Up
After the games in the United Center this weekend Chicago will not see their home ice till February 27th. Chicago will go out on a six-game road trip against Detroit, Carolina, and Columbus. Detroit might be an easy opponent on paper, but every one of those teams will prove challenging.
The Blackhawks need to treat their next two games as must-wins back at home against Columbus. The two teams split their last meeting against each other some ten days ago, and since then Chicago has captured at least a point in every game.
Columbus is a really good defensively driven team. Seeing as the Blackhawks games this season have been close and low scoring, the Blue Jackets are a great opponent for the Blackhawks to face off against.
The Blue Jackets will look a little different from the last time these two teams met, as Patrik Laine was traded to the Jackets earlier this season. Laine has not had the best start with Columbus and has spent a lot of time on the bench. Hopefully, the 'Hawks will be able to keep up with the Jackets' new offensive threat.
Chicago is winning games, but let's see if they can do so in a more dominant fashion by a goal or two. Obviously at the end of the day getting the win is all that matters, but considering every game is against teams vying for the same playoff spots this season, Chicago going to overtime is enabling teams like Dallas to also pick up two points in the playoff race.