The Chicago Blackhawks are Finding ways to Win Games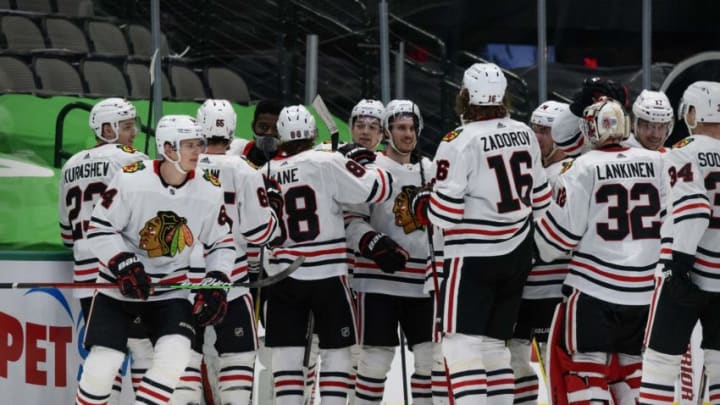 Chicago Blackhawks Mandatory Credit: Jerome Miron-USA TODAY Sports /
The Blackhawks did not play their best game, but they managed to win the game against the Stanley Cup Finalists in the Dallas Stars.
Let's be honest, the Blackhawks did not play their best game and that could be attributed to the seven defensemen, eleven forwards they deployed today. They did not win faceoffs and did not have that same jump in their step as they have had before. However, they won the game by weathering the storm and riding their solid goaltender to win the game.
This is a win against the Dallas Stars that they should not have won. Great teams can find ways to win the game, and a chippy goal by Mattias Janmark tied the game. The Blackhawks didn't apply as much pressure as I would have liked, but they still managed to win the game. These young guys are improving every game, and Pius Suter won them the game in overtime with a beautiful move.
Relentless Effort, Depth, and Short-term Memory
The Blackhawks gave the puck over SEVEN times in the first period, and their giveaways in the game could have led to a horrible loss if Kevin Lankinen didn't bail them out once again. One of them was from Pius Suter not aware of the back pressure of Jason Robertson, who would set up the first goal of the game. Another was from Nikita Zadorov at the FAR blue line on what I think was an attempted pinch for an offensive play. He did make up for it by making two good defensive plays to keep the score tied.
The newcomers on the Blackhawks, both rookies, and veterans, have made huge impacts on this roster. Mattias Janmark scored yet again, an unsung hero offensively for the Blackhawks, and Brandon Hagel is starting to show his skill along with his grit.
These two have very underrated offensive skill and potential. If Hagel starts to score like he did on the Icehogs last season? Watch out. It's not much (19 goals, 12 assists) but that's 31 points from a depth forward. That's key in this very close division.
These guys also don't look to dwell on their mistakes at all. They are immediately played by the coaching staff once again so they can't dwell on their mistakes. More time on the bench means more time to think about why you're not out there.
If the Blackhawks benched their guys like, say, the Columbus Blue Jackets have, this team would not be 6-4-4 right now. Pius Suter made a mistake to give the Stars the lead, but his play the rest of the season didn't show any sign of tentativeness and more mistakes from overthinking. Instead, he generated more chances before embarrassing Klingberg with an unexpected move for the game-winner.
The Coaching Staff
More from Blackhawk Up
The coaching staff is also instilling confidence in these rookies, not punishing them with a bad play, and allows them to continue to play their game. If Pius Suter turned the puck over with a veteran coach, he might have been benched and his confidence would have been crushed, and he wouldn't have been allowed to, or have the confidence to, make that move around Klingberg to win the Blackhawks the game. Jeremy Colliton and the coaching staff deserve every bit of respect for the evolution of this team.
A young team usually has fragile confidence when things don't go their way. Not this team. Colliton has managed to get his team into the games when they would have checked out last season, losing by more than they would have. They have finally bought into the system and know that it's not easy to win games in the NHL. And, unlike last season, you can't count these guys out when they have a one or two goal deficit. They have comeback so many times already that you can never think the games over from a one-goal deficit when there's time on the clock.
Goaltending, Hands Down
The Chicago Blackhawks would not be anywhere without the solid goaltending they have gotten from both goaltenders. Both Kevin Lankinen and Malcolm Subban have stolen points for the team, and those will be valuable points as the season continues.
Subban has become a different goaltender since his first game, now more fundamentally sound and able to make key saves at key moments. One problem with him is his awareness of the puck. If it wasn't for the soft goal caused by his lack of puck control in that specific play, he could have shut out the Dallas Stars.
Kevin Lankinen has nothing that can be critiqued. He's fundamentally sound, athletic, makes key saves, and have stolen games for this team. The 0.971 save percentage he earned on Tuesday night is probably his most impressive moment. He outperformed his opponent on the other side of the ice by a small margin in his close goalie battle with Oettinger. Lankinen won the battle and should have gotten the first star, but Dallas thought differently.
Final Thoughts:
This is a completely different team than they were at the start of the season, and making the playoffs would benefit them much more than anything. In a rebuild, teams find what players could stick with their organization, and pretty much every rookie playing this season should be in the long-term plan of the Blackhawks.
The fact they can play with what looks to be a couple of the top teams in the NHL shows that they could surprise some people in the postseason, much like they did in 2009: Have fun playing hockey and not worry about results, just happy they were there.
If they don't make the playoffs, adding another high lottery-pick could force the Blackhawks to part with some quality guys in the future. Now, I'm NOT against lottery picks. Owen Power would be a huge asset for the team. I'm just cautious because Stan Bowman spent too much on his core before, and the team plummeted when the level of play from those players dropped.