Chicago Blackhawks: Grading the rookies performances so far this season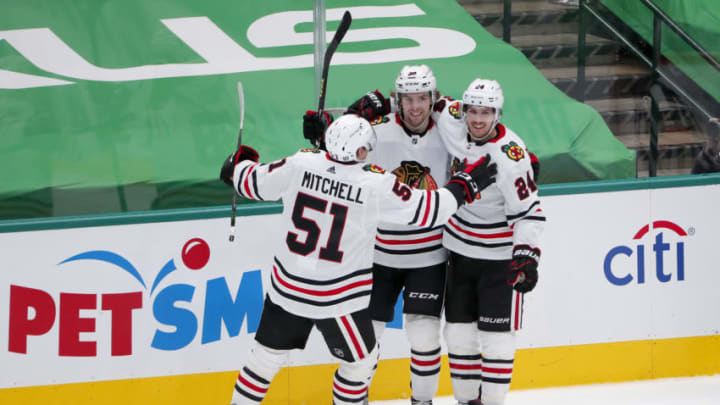 Ian Mitchell #51, Brandon Hagel #38, Pius Suter #24, Chicago Blackhawks (Photo by Tom Pennington/Getty Images) /
There isn't a Chicago Blackhawks fan out there who would have predicted that this scrappy young team missing major pieces would be this successful over a quarter of the way through the season.
If we are being honest, it's clear that the rebuild is ahead of schedule and Chicago Blackhawks head coach Jeremy Colliton is, in fact, doing a nice job with the young kids who are learning what it means to play in the NHL. So, it's time to grade the top five kids.
Philipp Kurashev, 21, is averaging about 13 minutes of ice time per game. In 15 games he has played, Kurashev has notched four goals and four assists. What looks encouraging for the Blackhawks is that Kurashev seems to be settling in and getting more comfortable in the system.
Over the last seven games, Philipp has tallied six of those eight points. And, he has seven hits/blocks over the same games. As far as those numbers go, Kurashev is on schedule and improving.
Where he needs to improve is in his Corsi; right now, he is posting a paltry 44.2%. This certainly isn't surprising; rookies don't typically come in and dominate. His faceoff percentage is also low at 47.1%. This number is glaring due to the loss of Captain Jonathan Toews. Time and experience should help correct that. Overall: B
Pius Suter, 24, has been a little more active on the scoreboard. He has tallied six goals and three assists through 16 games. He also scored a hat trick versus Detroit, the first of his career. His Corsi is slightly higher at 48.6% but still a little lower than the 'Hawks would like.
His faceoff percentage is also low at 44.4%. Again, these numbers aren't surprising being a youngster trying to adapt to a very fast game. One nice part of his game is that Suter is not afraid to get in front of the puck, blocking seven shots thus far. If Suter can improve on his control numbers, he should be a mainstay for the Blackhawks in the future. Overall: B-
Brandon Hagel, 22, has been a breath of fresh air for the Blackhawks. The early success of this team is largely because of their scrappy play on the forecheck and backcheck. Surprisingly, Hagel has led the charge. Hagel only starts in the offensive zone 33.7% of the time, yet he has a Corsi of 52.9%.
He battles for the puck and moves it up ice like a veteran. He isn't afraid to lay his body on the line. Through 13 games, he has 15 hits and 11 blocks. And, if there is any question about his toughness, ask Bluejacket Patrick Laine who was recently laid out in a scrap with Hagel. If there is someplace Hagel needs to improve it's on the offense.
Hagel only has two assists through those same 13 games. He has had chances but seems a bit snakebitten, something we have seen with Brandon Saad at times in the past. Overall: A-
Ian Mitchell, 22, came in highly touted from college. He was a very offensive defenseman, who has yet to show that part of his game with the Blackhawks. Thus far, Mitchell has one goal and one assist through 16 games.
He does have 15 blocks and eight hits with a Corsi of 45.8%. At this point, his development seems to be on schedule. Playing in Colliton's man to man defensive system is most likely requiring much of Mitchell, limiting his offensive production. When the game slows down a bit, Mitchell will be just fine. Overall: C+
Nicolas Beaudin, 21, has two goals and two assists in his first eight games. Beaudin also has ten blocks and six hits. From there, the numbers aren't so great. Although starting nearly 60% of the time in the offensive zone, Beaudin has a very low 37% Corsi.
Obviously, some of that number is due to poor faceoff numbers, but Beaudin will need to be better at keeping the puck in the offensive zone. Further, Beaudin has too many giveaways through his first eight games.
He needs to limit those if the Blackhawks are going to continue being successful this season. In his favor though is his plus/minus which is a +2. I know that stat doesn't mean a whole lot, but with a lot of giveaways, it means he is reacting well and keeping the puck out of the net. Like Mitchell, Beaudin will improve with time. Overall: B-
I came into this season with a lot of trepidation, but have been pleasantly surprised. I haven't enjoyed watching the Blackhawks this much in years, and most of that is due to watching the maturation of these kids. It seems Chicago's future is in good hands.