The Chicago Blackhawks Have to Stop taking In-Game Breaks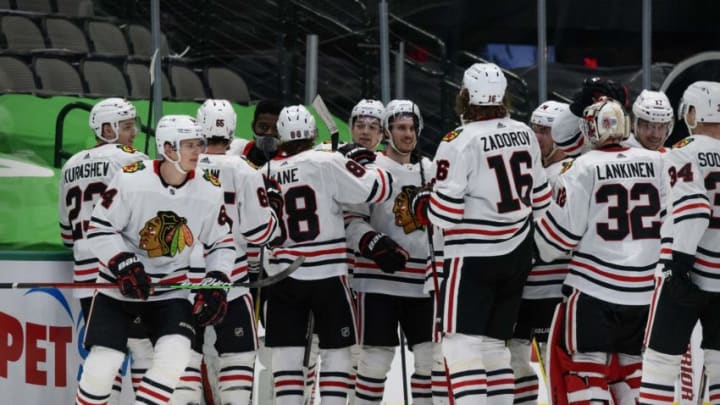 Chicago Blackhawks Mandatory Credit: Jerome Miron-USA TODAY Sports /
So far, the Chicago Blackhawks have taken breaks in-game, resulting in a shift of momentum against opponents.
The Chicago Blackhawks keep on allowing teams back in their games by taking their foot off the gas when they have the lead. In their game against Columbus, they relinquished a 4-2 lead after they had all the momentum and looked to have had the win in the bag.
Instead, they stopped playing, allowed half of their shots on goal against in a single period, and were outscored 4-1 down the stretch to lose the game 6-5. They did bounce back with a comeback OT win the next game against Detroit with a relentless effort.
The Chicago Blackhawks should see a correlation here: They could have had multiple points in their pockets in the last few games they played. They had everything in their favor, but usually broke in the second period, or both the second and the third period.
During this time span, the team would look tired and make multiple mistakes. They had no energy and would allow 15+ SOG against. Let's look at their SOG differences in their last couple of games:
vs. Detroit (OTW, 3-2): 1st period, 13-6 DET, 1 G against
vs Columbus (OTW 3-2): 3rd period: 12-4 CBJ, Even
vs Columbus (L 5-6): 2nd period: 18-10 CBJ, 3rd period:17-7 CBJ
35 of 43 total shots in forty minutes, 5 goals against
vs Carolina (W 6-4): 2nd period: 17-9, CAR, 2 goals against
More from Blackhawk Up
This shows why the Blackhawks cannot take breaks against their opponents. The same effort from the first period has to continue to the second period, and from the second to the third period.
Even if they are ahead 5-1 in the game, they have to play and earn the sixth goal because, thanks to the Ottawa Senators' 6-5 comeback win against the Toronto Maple Leafs, the opposition can come roaring back and score five unanswered goals to win the game.
The team has to understand that they have to stop taking every game to OT because they're giving their opposition a point as well. As nice as it is to watch Patrick Kane and Alex DeBrincat work their magic in OT, they have to win as many games in regulation and take as many points as they possibly can in games against "easier" opponents.
They also can't assume that their goaltender can weather the storm every time, as Kevin Lankinen displayed when he couldn't stop every shot from the Blue Jackets' onslaught.
The Blackhawks need everything to go right if they want to qualify for the playoffs this season and gain as much of a lead as they can as the Dallas Stars are primed for a hot streak, and Columbus are right on their tail. They have to play a full 60-minute game every night as the teams they are currently ahead of are only bound to get better down the stretch.
Let's see if they can earn two points in regulation as they continue their series vs the Detroit Red Wings tonight.