Blackhawks News: NHL Postpones Saturday's Matchup Against Carolina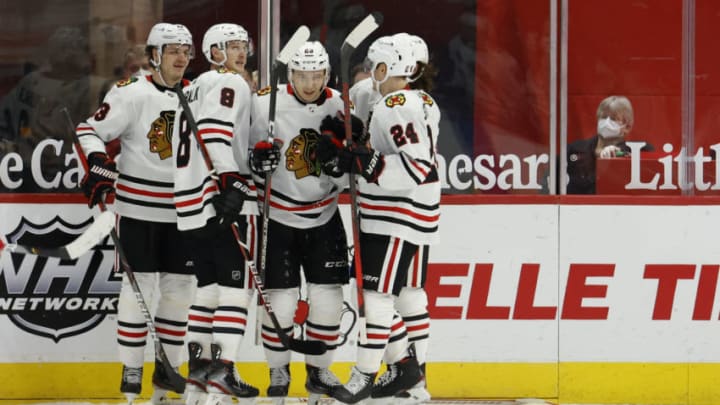 Feb 17, 2021; Detroit, Michigan, USA; Chicago Blackhawks left wing Philipp Kurashev (23) is congratulated by teammates after scoring against the Detroit Red Wings in the second period at Little Caesars Arena. Mandatory Credit: Rick Osentoski-USA TODAY Sports /
The Chicago Blackhawks will get a rare few days of rest as the NHL has postponed tomorrow night's matchup against the Carolina Hurricanes. In a press release by the NHL Public Relations, the NHL announced that the game would be delayed.
The reason for the game delay is to play catchup on some of the other games on the schedule already postponed due to COVID issues. Tampa Bay and Carolina both saw some delays in their schedule earlier this season, to help fix the problem, they are playing a game scheduled for March 28th now in order to leave a little room at the end of the season to fit in some other games.
For the Blackhawks, this might be a good move. Chicago has played the most games in the division at 18. This move will allow a few other teams to catch up and maybe have a game in hand instead of three or four. Carolina, Florida, and Tampa Bay have only played 14 games, and Dallas has only played 12.
Those four to six games could drastically change the standings, and while the Blackhawks can not go on a pause to wait for the other teams to catch up, they can reschedule a game or two.
The Chicago Blackhawks' schedule now includes a few days off for some rest.
Originally the Blackhawks were going to embark on a rather tough road trip. After games in Detroit, they were scheduled to play back-to-back games in Carolina and then two in Columbus next week. Now things are a little bit more laid back for the 'Hawks.
After tonight's game, the Blackhawks won't play again until Tuesday night. That is three days off that the team definitely will look to take advantage of. The 'Hawks have played some great hockey as of late, but a little time to catch their breath might be good.
Alex DeBrincat has been playing great, and Patrick Kane has been logging insane amounts of ice time. This little break should help and not hurt the 'Hawks momentum. Now all they have to do is go out and get the win tonight!