Carl Soderberg is finally getting comfortable with the Blackhawks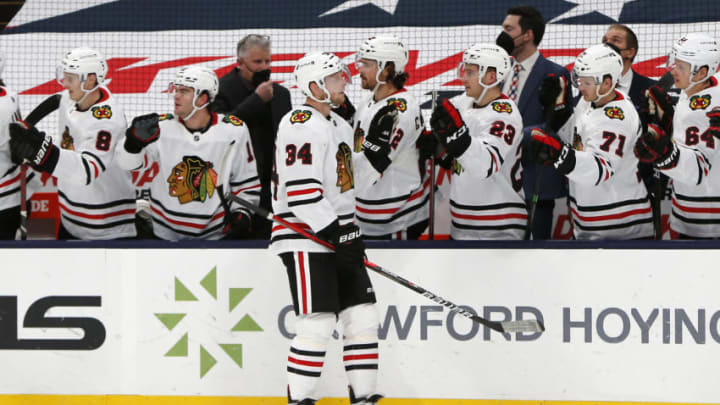 Carl Soderberg #34, Chicago Blackhawks Mandatory Credit: Russell LaBounty-USA TODAY Sports /
Carl Soderberg has been on fire the past couple of games. In the past six games, he has seven points, four goals, and three assists, and he is leading the team in the faceoff dot. Soderberg's turnaround with the Blackhawks comes after he missed some time to begin the season.
After having a hard time getting to Chicago, Soderberg missed the first road trip of the season to Florida and Tampa Bay, so did the entire 'Hawks team though as they left the road trip without winning a game.
This past offseason, the Blackhawks signed Soderberg to a one-year one million dollar contract in December after finding out that Jonathan Toews and Kirby Dach would not be with the team. Considering how those two players are two of the team's top centermen, and that Strome did not have a contract at that time, Soderberg signing with the team was huge.
Soderberg played with Colorado, Boston, and Arizona before joining the 'Hawks this offseason. His offensive numbers have never been that amazing, but he has done a lot of great work on the penalty kill. As a two-way forward, the Blackhawks are not asking for Soderberg to score a lot of goals, but I do think they can draw on him to win faceoffs.
Suter struggled in the faceoff dot last night, Kampf is always reliable but doesn't get a lot of opportunities outside of the defensive zone, and basically, every other major center this team has is out with an injury – Soderberg could be the top line guy for Chicago.
The Blackhawks need to let Carl Soderberg continue to take on a bigger role with the team.
More from Blackhawk Up
Going into last night's game, Carl Soderberg had won 86 faceoffs for the 'Hawks this season, that number is third-best on the team and he will probably jump Strome and Kampf eventually. The only reason they are above him is they have played more games than him this season.
Soderberg has been starting about 60 percent of his zone starts within the defensive zone. While I understand the team wants to get a faceoff win in their own end, I also think it could be valuable for them to get possession in the offensive zone. Why not throw him out on the ice with Kane and Debrincat and see what he can do between those two talented wingers?
Artem Anisimov was not the best offensive forward but he did great playing with Patrick Kane. Maybe Carl Soderberg can be that next centerman for Kane and the 'Hawks. Of course, then the team would probably not re-sign him or trade him later during the season though!
The Blackhawks are running on fumes, and this last game showed that. The amount of line blending Jeremy Colliton did was crazy and the team needs to single in on a few units in order to build some chemistry. If Suter is out of the top line spot, maybe putting a reliable player that can win faceoffs would be good for Kane.