Blackhawks: A scouting report on the upcoming Lightning game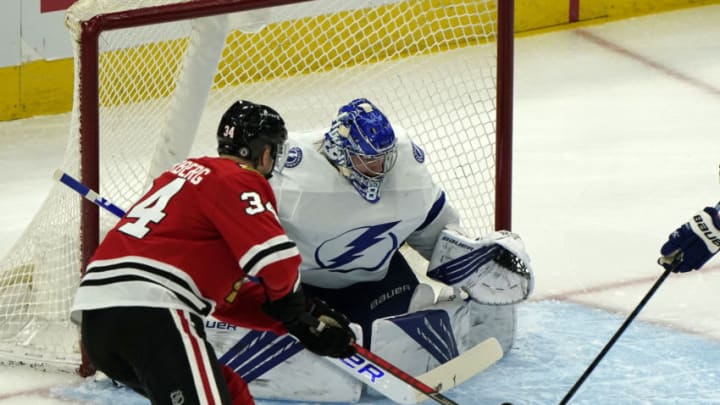 Mar 4, 2021; Chicago, Illinois, USA; Tampa Bay Lightning goaltender Andrei Vasilevskiy (88) makes a save against Chicago Blackhawks center Carl Soderberg (34) during the first period at the United Center. Mandatory Credit: Mike Dinovo-USA TODAY Sports /
The Chicago Blackhawks play their second of a three-game series tonight against the Tampa Bay Lightning.
The 'Hawks lost last night's game in heartbreaking fashion, dropping the tilt in overtime with .01 of a second left on the clock.
Despite the loss, the 'Hawks played very well throughout most of the game, keeping the defending Stanley Cup champions at bay through the first two periods. They also ended up outshooting the Lightning 37-34. In addition, goaltender Kevin Lankinen also played very well, proving once again that he is an NHL-caliber netminder.
The Blackhawks now must look forward to tonight's game, where their primary focus should be keeping the pace up throughout most of the game, just as they did last night. In addition, their biggest challenge will once again be Lightning goalie Andrei Vasilevskiy, assuming he gets the start again tonight.
Vasilevskiy is one of the best goalies in the league. Prior to last night's goal by Ryan Carpenter, he had a Tampa Bay Lightning team record 228:09 shutout streak going, coming off of three straight games without allowing a goal. If Vasilevskiy is in fact in net again tonight for Tampa Bay, the 'Hawks must find a way to continue to best him. He is a big body, so making sure that there is traffic in front of the net will be key.
Additionally, the Blackhawks must shore up their defense, particularly towards the latter half of the game. While the defenseman played well throughout the majority of last night's game, Tampa was able to tie things up with a pair of third-period goals in under two minutes. That can't happen again if the 'Hawks want to come away with the victory tonight.
Chicago must also watch out for the usual suspects in Tampa Bay's scoring column. Lightning sniper Steven Stamkos scored the tying goal last night and is always a threat through the slot. One saving grace for the 'Hawks is that Nikita Kucherov is out this season after hip surgery, so that is one less superstar for Chicago to worry about.
Malcolm Subban gets the start in net tonight for the Blackhawks (per Mark Lazerus of The Athletic). The rest of the 'Hawks lineup remains the same for head coach Jeremy Colliton. Chicago now sits at a respectable 12-7-5 and will look to get revenge tonight. Find out if they're successful when the puck drops against the Tampa Bay Lightning at 7 p.m. CST.