Chicago Blackhawks: 3 takeaways against the Tampa Bay Lighting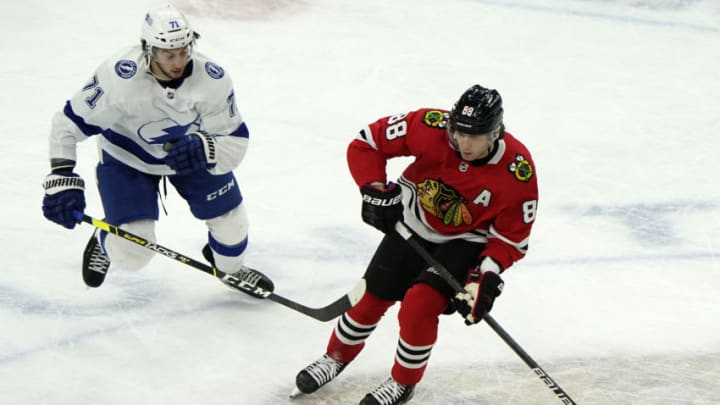 Patrick Kane #88, Chicago Blackhawks Mandatory Credit: Mike Dinovo-USA TODAY Sports /
Patrick Kane #88, Chicago Blackhawks Mandatory Credit: Mike Dinovo-USA TODAY Sports /
In the first of a back-to-back, the Chicago Blackhawks played the Lightning Thursday night.
Coming into the game, Tampa Bay was the top team in the Central Division. Their performance in the third demonstrated why, but what about Chicago? They weren't half bad, right?
After a strong game against Detroit, the upstart Chicago Blackhawks came into Thursday night's game in fourth place. Columbus is five points behind Chicago in fifth place in the division. While the halfway mark for the season is still a few games away, any points that Chicago can earn are vital if they're going to make the playoffs. Against a team as deep as Tampa Bay that's a tall order.
The game was a wild one that saw a lot of quality scoring chances for both sides, and there were numerous instances where Chicago could have put the game away, including in overtime. In the end, though, Chicago came away with an important point.
That single point is crucial. Chicago has 14 games in March. Of those games, including the OT loss against Tampa Bay, Chicago will play the first-place Lightning five times, the second-place Hurricanes once, and the third-place Panthers four times. That's ten out of fourteen games against the best teams in the division. If Chicago is serious about going to the postseason, then they need every point they can get.
The overtime loss was brutal because of how close it was, but Chicago wasn't a disaster. The team was able to compete from start to finish.  Here are three takeaways from last night's game against the Lightning.