Chicago Blackhawks: 3 takeaways against the Tampa Bay Lighting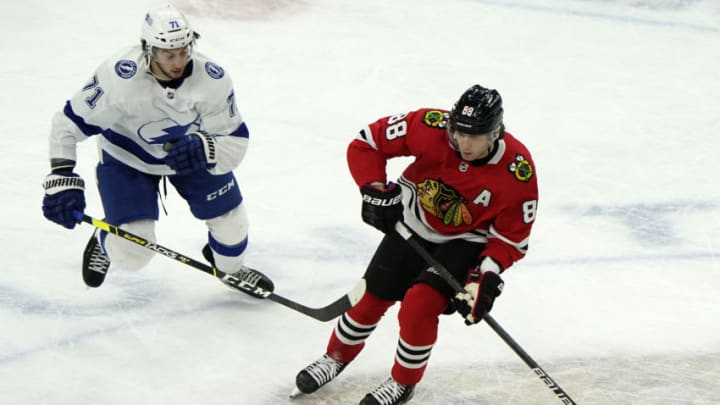 Patrick Kane #88, Chicago Blackhawks Mandatory Credit: Mike Dinovo-USA TODAY Sports /
Ryan Carpenter #22, Chicago Blackhawks Mandatory Credit: Mike Dinovo-USA TODAY Sports /
In a great sign against the defending champions, Chicago's depth showed up.
Alex DeBrincat scored on redirect, but it was a short-handed goal from Ryan Carpenter that put Chicago in front. Strong play from Brandon Hagel made sure Chicago was able to retrieve the puck, and they were able to capitalize on the opportunity.
Additionally, at the end of regulation, Chicago led the shots on goal 34 to the Lightning's 29. That's not something to dismiss off-handedly. If Chicago is going to hang with the best, everyone has to be making contributions up and down the lineup. In this game, they were. There were 6 forwards and two defensemen credited with 3 SOG or more for the game. Kane led the team with five, and Keith was right behind with four. The offense was spread throughout the roster.
Ice time was evenly distributed as well, so no one was stuck to the bench because they weren't getting the job done. This could have been because Chicago had a few days off in-between games and the time to recuperate is like gold in this shortened season. Everyone appeared focused, and ready to go.
This is especially obvious because there wasn't one play or any individual player that could be at fault for making an error that tipped the game in Tampa Bay's favor. Additionally, it wasn't a game where it felt like Patrick Kane was going to have to do it all to scrape out the win. As a group, they came together and everyone chipped in a little bit. It was one of those nights where you couldn't help but wonder how things would have gone if Toews and Dach were healthy.