Chicago Blackhawks: 3 takeaways against the Tampa Bay Lighting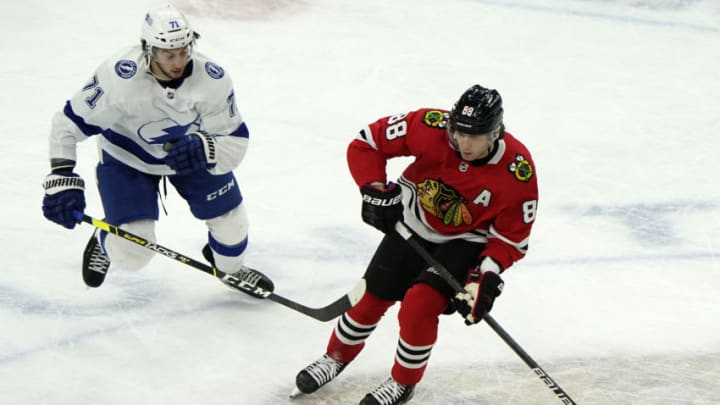 Patrick Kane #88, Chicago Blackhawks Mandatory Credit: Mike Dinovo-USA TODAY Sports /
Kevin Lankinen #32, Chicago Blackhawks Mandatory Credit: Mike Dinovo-USA TODAY Sports /
Chicago looked to be another team than the one that opened the season against the Lightning.
The first game these two teams played against each other was an extremely lopsided affair in favor of Tampa Bay. During last night's match-up, Chicago led 2-0, only to see Tampa Bay come back and get a game-winning goal with .1 seconds remaining.
This game was a solid outing for Chicago, despite having lost. Tampa Bay had to come back to get the win and they did because they're a great team they were able to do it. The key here is that it took Tampa Bay every possible second
It was a winnable game for Chicago, and that's the best part of losing this match. Crazy, right? That's light years away from Chicago's blowout losses in the first couple of games. If you're interested in metrics, Natural Stat Trick had the game to be largely in favor of Chicago. This game was just within Chicago's reach, but it, unfortunately, didn't go their way. Alex DeBrincat made a couple of comments to that effect that were tweeted out by Mark Lazerus:
And this one:
DeBrincat was right, and this was a game that slipped away from them. The irony is that no one would have believed Chicago's players would be able to say thing likes this at any point this season after giving up ten goals in two games earlier to start the year.
The game was as fun as any other this year to watch, and the fact that it went the distance says a lot about Chicago. Chicago lost, but took a point. The game even needed a video review just to be sure. It was that close. There's room for improvement, but as the season progresses Chicago is growing as a team.