Three Keys To Victory For the Chicago Blackhawks Tonight Against Dallas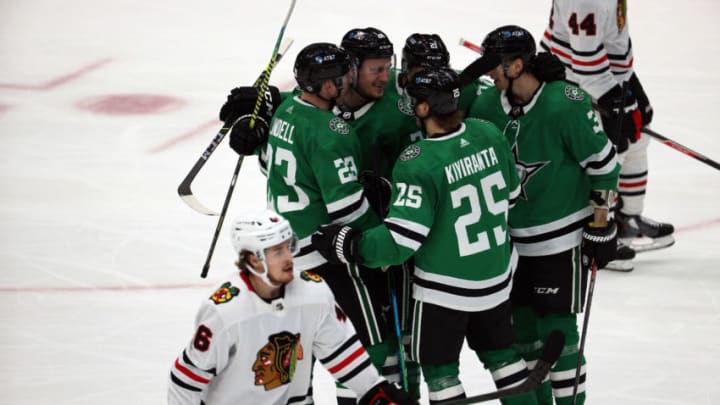 Chicago Blackhawks, Dallas Stars (Photo by Ronald Martinez/Getty Images) /
Chicago Blackhawks, Dallas Stars (Photo by Ronald Martinez/Getty Images) /
The Chicago Blackhawks can not let Tuesday night performance become the norm during the month of March. It is time for a bounce-back win.
The Chicago Blackhawks could go on a three-game losing streak for just the third time this season if they lose tonight. That would not be good for a team that is about to play the Lightning and Panthers next week.
The Blackhawks played with no desperation against the Dallas Stars on Tuesday. If that was the first game I watched all season I would have been shocked to find out that Chicago is the supposed playoff favorite over the Stars at this time.
The Blackhawks have given up 12 goals in their last two games, and they have not looked like a playoff threat in either of those matchups. Everyone knew how tough the month of March was going to be on this team, but only eleven days in, it looks even harder than previously imagined.
Chicago has to get back in the win column tonight, and hopefully, they can do so in a big blowout fashion as this team needs a statement win. Patrick Kane finished his 1000th game, and there are no more distractions left to keep players out of the game. While milestones are awesome to watch, this team does not have enough space in the standings to take nights off.
So, here are three keys to victory for the Chicago Blackhawks to get back on track tonight against the Dallas Stars.
1 Goaltending needs to be better
The Blackhawks had some great goaltending during the month of February. Kevin Lankinen had been lights out during that time, and he always kept the Hawks in it. In the past few games, we have seen what happens when these goalies play like the rookies they are.
Lankinen giving up six goals was his worst total all season. It did come against Tampa Bay, but that probably does not make him feel any better. The Hawks do not need either Subban or Lankinen to be perfect, but they are asking them to not be the reason they lose games.
Say what you will about the last matchup with Dallas, but one thing is for certain for me, Subban gave up some weak goals. While the loss was not his fault playing a 2-1 game is way different than playing a 3-1 or 4-1 game.
I want to see the Hawks get back in the win column tonight, and I hope that coincides with a big performance from one of the Blackhawks' netminders. I was kind of shocked to see the Hawks go with Subban on Tuesday. After Lankinen played one of his worst games of the season, I saw some advantages of letting him bounce back right away. Now the young netminder had plenty of time to dwell on the Sunday loss and can lead the Blackhawks to victory.