Blackhawks Preseason Predictions; a half-season Retrospective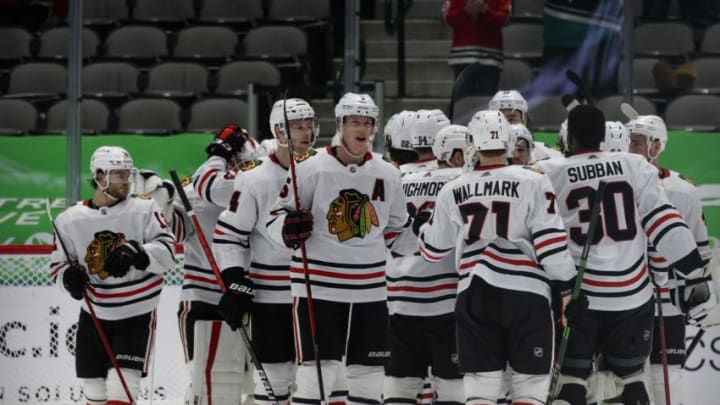 Chicago Blackhawks Mandatory Credit: Jerome Miron-USA TODAY Sports /
Chicago Blackhawks Mandatory Credit: Jerome Miron-USA TODAY Sports /
The Chicago Blackhawks season is about halfway done, and they are surprising the hockey world by holding down a playoff spot while supposedly rebuilding.
Schadenfreude is always some fun, so let's take a look at some preseason predictions I've made for the Blackhawks, and how they're holding up here at the halfway mark of the season. Some of these will stack up better than others. Obviously, a prediction like who wins the Stanley Cup would be a little premature for an article like this so we can safely skip that one.
Who will be the Blackhawks' leading scorer?
What I said in January: The Blackhawks leading point scorer should be no surprise to anyone, Patrick Kane. Kane's an absolute superstar, a Hockey Hall of Fame first-ballot lock.
My preseason pick of Patrick Kane is looking like he's still the runaway leader here, but Alex DeBrincat's season is nothing to be overlooked. If he hadn't missed a week to Covid he could be challenging Kane for that top spot, he's top 5 in goals scored.
But this wasn't a hard choice, Kane's the best American-born hockey player of all time after all. He is necessarily shouldering a heavy offensive workload for these Blackhawks. An easy answer here.
The Blackhawks starting goaltender will be…?
What I said: I feel pretty confident that Subban will get the first look in the net, but by the end of the season I think Delia asserts himself and takes over the net. … You have to be able to bounce back from a blown save or a bad night…
How it's going: Not according to my prediction, at all.  Collin Delia hasn't seen an NHL game in over a month, and when he was in he was shaky at best.  Being sent down for a conditioning stint and not being any better in the AHL isn't helping his case to take the backup job, either.  The starting job is Kevin Lankinen's to lose for sure.  I still stand by the original idea that he has the mental side, but Delia needs to perform.