Blackhawks Preseason Predictions; a half-season Retrospective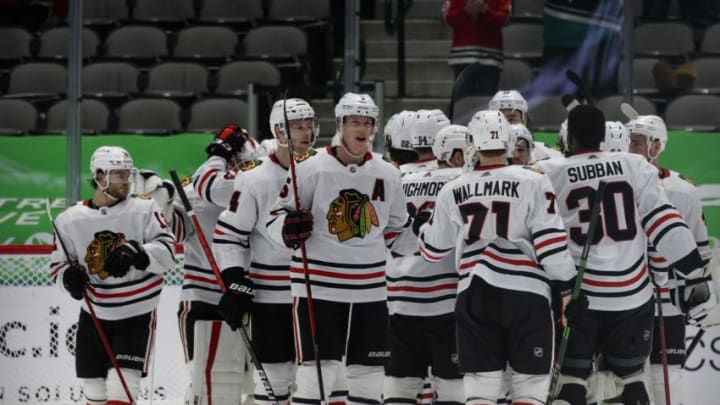 Chicago Blackhawks Mandatory Credit: Jerome Miron-USA TODAY Sports /
Kevin Lankinen #32, Chicago Blackhawks (Photo by Stacy Revere/Getty Images) /
The top four teams of the division will be…?
What I said: The Discover* Central Division's top three teams will be, in this order; the Tampa Bay Lightning, Carolina Hurricanes, Dallas Stars. The fourth team is where it gets more interesting… I think Florida is the one that squeaks in.
How it's going: Well, aside from Chicago playing better than we had any idea they were capable of, not bad. The order's off, but we're hitting three of four so far as to who's in.  I still think Dallas could find that extra gear and squeak in when it counts, but that's why we play the games because so far they haven't.
Florida is way better than expected, even though I had them in I did not have them being this dominant, but that's led by Driedger going on a bender more than Bobrovsky having a return, even though his play and record have improved.
Q is, of course, a major help to the young team. Chicago being in a solid playoff spot at the moment though is a very nice surprise, watching a team win tends to be way more fun than cheering for a draft pick. Since we went three of four on the playoff teams but not the order, I think another half-point is fair.
"Projecting Season-Ending Point Totals For Every Blackhawks Player"
Well, as far as predictions go, we're shooting pretty low here with two points in a possible six. As far as the season goes though, it's been great so far. Maybe the Blackhawks truly do create that separation and hold down their current playoff spot, the way they've played certainly shows they have the ability. Maybe they don't and wind up without a top 10 pick. The Blackhawks are playing with house money, might as well go for the ride. This season is fun, something we had no idea was coming.