At some point the NHL Draft changes will impact the Blackhawks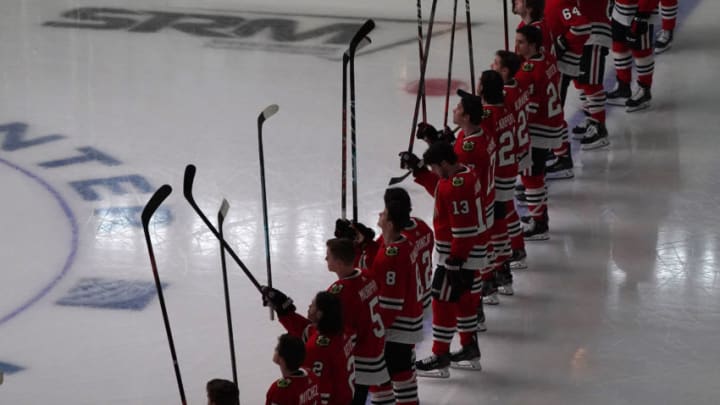 Jan 22, 2021; Chicago, Illinois, USA; The Chicago Blackhawks lift their sticks before the game against the Detroit Red Wings at the United Center. Mandatory Credit: Mike Dinovo-USA TODAY Sports /
In a press release on Tuesday, March 23, the NHL announced a few changes they are implementing in the NHL draft. Those changes are something every team in the league needs to keep an eye on, including the Chicago Blackhawks.
In a perfect world, I think everyone would rather see the Blackhawks in the playoffs and not in the draft lottery, maybe not this season considering they are rebuilding. Still, during a normal year, fans want to see a playoff team rather than a team eligible for the lottery.
However, every team has bad seasons, and the NHL changes to the draft lottery will favor those bad teams going through a tough rebuild. Now, only the first and second overall picks are part of the draft lottery, and teams can not win it more than twice in a five-year period.
While these changes might sound horrible to a bad team trying to rebuild and wanting multiple first overall picks, it does help limit situations like New York getting a second overall and first overall pick the past few seasons, and teams like Edmonton and New Jersey who have won multiple lotteries in the past.
For Blackhawks fans, I think it might be easy to ignore the changes for now, but they will impact the team at some point in the future.
The Blackhawks were not supposed to select third overall in 2019, but they won the lottery and moved up in the draft. Now under the new rules, that selection will no longer be eligible for the draft. Also, the number of teams that are going to participate is less because teams can not move up more than ten spots.
"Ten Reasons To Not Give Up On The Blackhawks Just Yet"
All these changes are there to help give the best prospects to the worst teams, but they also make tanking for a draft pick more likely from a bad team trying to land top prospects. There is no perfect way to set up the draft and who is eligible to win the lottery, but I do think this system will need some tweaking over the next couple of seasons.