Blackhawks: It seems like this one game could determine the playoffs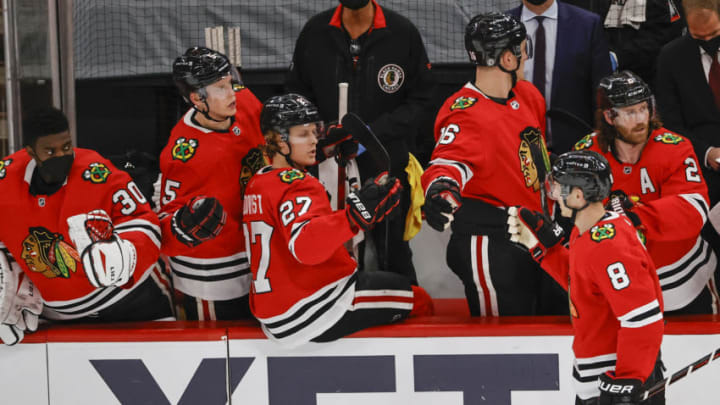 Dominik Kubalik #8, Chicago Blackhawks Mandatory Credit: Kamil Krzaczynski-USA TODAY Sports /
The Chicago Blackhawks' odds at making the playoffs have dropped considerably through the past couple of weeks. It seems like today's game could be the difference-maker.
The Hawks play the Nashville Predators in Nashville today. Going into the contest Chicago and Nashville are tied in points yet again the only difference is Nashville is 8-2-0 in their last ten games while Chicago is 3-7-0. I think I would rather be the Predators than Chicago right now.
If the Hawks lose today, they go into two games against the Dallas Stars really needing points desperately. This game should be like a playoff game, and things are not going to get easier in the coming weeks.
Jeremy Colliton and the Hawks got a few wins against Florida and a win against Carolina, but he has failed to beat Nashville, and Chicago has not been very good against Dallas either. Colliton has snuck away with wins against teams they shouldn't have beaten a few times. However, he has fallen short against some of the matchups the team has needed.
More from Blackhawk Up
Chicago has beaten Detroit and Columbus on a pretty normal basis, but they can not get things going against Nashville and Dallas. Yes, those two teams might just be better, but Colliton needs to do a better job getting the team ready to go.
The Blackhawks are falling behind in the playoff race and maybe that isn't the worst thing in the world.
Nashville is just the hotter team right now, yes Chicago could potentially turn this around but I mean if the team is going to miss the playoffs maybe falling behind now wouldn't hurt. Chicago can focus more on getting the youth involved while also getting a better draft position.
The playoffs wouldn't hurt to see, and I am still rooting to see the team make it there. I am not a fan that is going to cheer for my favorite team to lose just to see a better draft pick, but at the same time, this team has not shown that they are ready for a playoff series just yet.
There are still 18 games to go this season, so Chicago still has a lot of hockey ahead of them, but for some reason the way they are playing, this one game seems to be more important than the rest. Are you still holding out hope for a trip to the playoffs for the Hawks?