Blackhawks: Kirby Dach's First Goal Of The Season Was Worth The Wait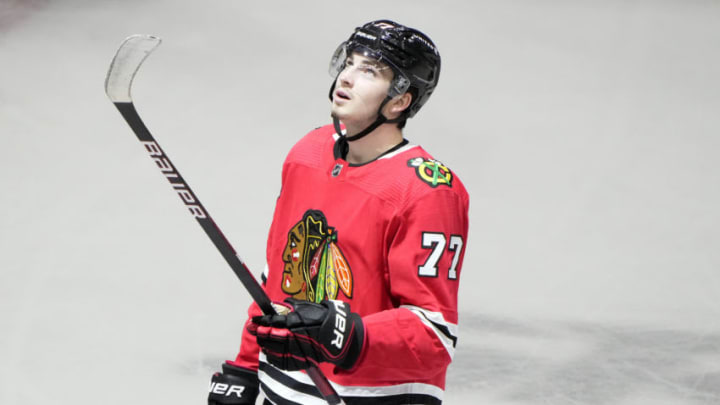 Kirby Dach #77, Chicago Blackhawks Mandatory Credit: Mike Dinovo-USA TODAY Sports /
It took six games, but Kirby Dach finally scored his first goal of the season a few nights ago against the Dallas Stars. After missing the first three months of the season with a wrist injury, Dach is back full time with the Chicago Blackhawks.
Kirby Dach is not that far removed from having a serious wrist injury. The Blackhawks need to continue to be careful with how they use the former third overall draft pick, but for now, it is great to see him back scoring goals.
Dach has ten shots on goal so far this season, and that number is only going to go up the more he is out on the ice. Right now Dach is averaging around 18 minutes a game via hockey reference. Knowing that Colliton has used Dach as the top guy in the past last postseason, I am sure he will get back to that mark sometime this year.
We finally got a look at what Dach can do offensively when he scored a highlight-reel goal against the Dallas Stars.
Take a look at the beautiful goal Kirby Dach scored last night for the Chicago Blackhawks to help lift the Hawks over the Stars.
More from Blackhawk Up
The Blackhawks are going to need Dach to continue to score goals like this for the remainder of the season. Without Jonathan Toews, Dach is the number one center on this team, and considering Dylan Strome has fallen to the third line winger, Dach is definitely considered the future of this team.
Playing alongside Alex DeBrincat and Patrick Kane, there are definitely reasons for optimism that Dach can have a stellar finish on the season. He has been involved in some great already, and it seems like he has had chances like the goal last night in multiple games.
Every night I feel like I have seen a play where Dach gets past a defender or two and drives towards the net and almost scores. His great reach and puck handling is something that is only going to prove more important to the team in the coming years.