Blackhawks: All The Stanley Cup Experience Within The Organization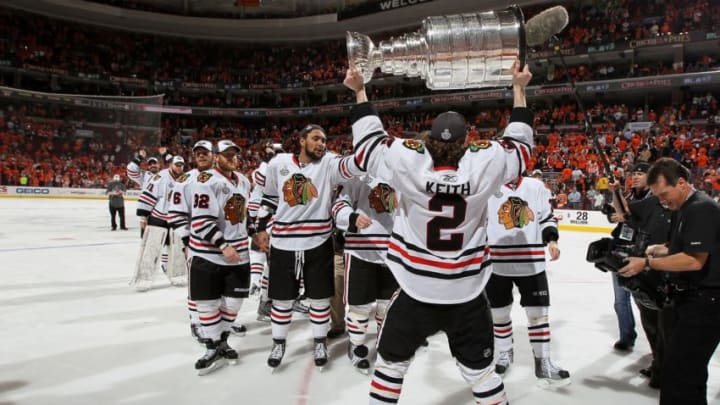 Duncan Keith, Chicago Blackhawks (Photo by Jim McIsaac/Getty Images) /
The amount of Stanley Cup experience that the Blackhawks have in their locker room is not as big as it used to be. Maybe the team can target a few players with experience during the free agency period of the off-season. For now, let's talk about who the team does have.
The Chicago Blackhawks have four players on the team with Stanley Cup experience.
Having the rookies play well is great, but the older, more experienced players set the charge in the locker room.
Jonathan Toews – 2010, 2013, 2015 Chicago Blackhawks
Jonathan Toews is a Conn Smythe Trophy winner and the captain of the Chicago Blackhawks. While he did not play this season, assuming he is back next year, he will add three cups of experience to the team.
Toews was instrumental in every championship, and while he is a little older now than he was back when they started winning, he still is a great player.
Patrick Kane – 2010, 2013, 2015 Chicago Blackhawks
Patrick Kane is still Patrick Kane. The face of the franchise is not going anywhere for a long time, and the idea of the team trading him should honestly be forgotten right away. Patrick Kane won the Conn Smythe in 2013 and scored countless clutch goals throughout the playoffs. Now that he is setting his eyes on making the postseason again don't count out this determined player.
Duncan Keith – 2010, 2013, 2015 Chicago Blackhawks
Duncan Keith should go down in history as one of the best Chicago Blackhawks of all time. While some fans might not enjoy the turnovers he has now and believe he is not the same guy he once was, Keith is still leading this blue line and won't slow down until he wants to. He also had one of the best playoff performances ever in 2015 and won the Conn Smythe.
Brett Connolly – 2018 Washington Capitals
Brett Connolly won the Stanley Cup with the Washington Capitals in 2018. He was a great addition to the team's depth that season and helped them win it all, scoring six goals throughout the playoffs. Connolly is a nice addition to the bottom six that will be around for the next two years.
Even within the last two seasons, the team has lost a lot of their winning pieces along the way. Brandon Saad, who was a two-time Stanley Cup champion, was traded away, Corey Crawford wasn't re-signed, and both Seabrook and Shaw are done playing hockey.
The Blackhawks team is not the same one that won their championships, and their current group of players with Stanley Cups to their neam reflects this. Although if you were only going to have a few players from the Blackhawks championships to keep around, I guess the three Conn Smythe trophy winners wouldn't be the worst choice.