Blackhawks: Today marks the end of the 49 year Stanley Cup drought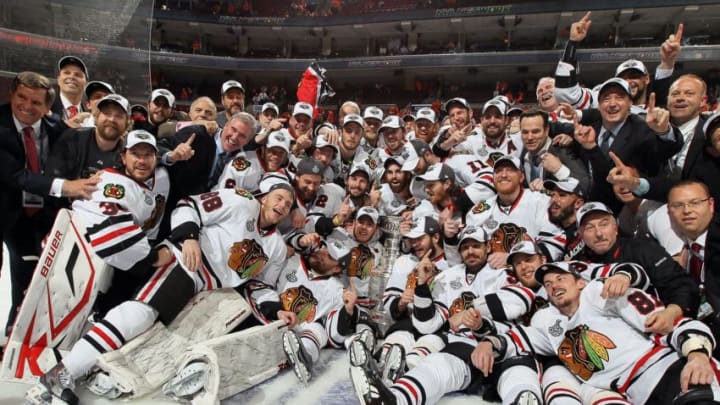 Chicago Blackhawks (Photo by Jim McIsaac/Getty Images) /
The Stanley Cup is the trophy that fans cannot wait to see. Out of all other championship trophies in sports, the Stanley Cup is one of a kind. Each season teams play for months for an opportunity to have their name engraved on a trophy, then after one summer they give it back and start all over again. The Chicago Blackhawks won their fourth championship 11 years ago today.
The Patrick Kane and Jonathan Toews era of Blackhawks hockey has been known for winning, but that had to start somewhere. The beginning of three championships in six seasons and a lot of conference final appearances started 11 years ago today.
Look around the league today. Winning is not easy. Very often even the best teams run into someone that stops them from winning it all whether the Avalanche losing three straight to Vegas or teams like Toronto and Edmonton losing in round one. Hawks fans have been lucky to see so much success, and I hope we get to see some more soon.
The Hawks won game six of the Stanley Cup Final against the Philadelphia Flyers 11 years ago today. This moment that seemed just like yesterday definitely is a hockey classic now.
https://twitter.com/NHLBlackhawks/status/1402615159215079430?s=20
The entire list of players from the Chicago Blackhawks that got their name on the Stanley Cup in 2010:
More from Blackhawk Up
Centers:
10 Patrick Sharp1 (A)
11 John Madden
19 Jonathan Toews (Captain)
36 Dave Bolland
46 Colin Fraser
Wingers:
16 Andrew Ladd
22 Troy Brouwer
32 Kris Versteeg
33 Dustin Byfuglien
37 Adam Burish1
55 Ben Eager
81 Marian Hossa
82 Tomas Kopecky
88 Patrick Kane
Defensemen:
2 Duncan Keith (A)
4 Niklas Hjalmarsson
5 Brent Sopel
6 Jordan Hendry
7 Brent Seabrook
24 Nick Boynton
51 Brian Campbell
Goalies:
31 Antti Niemi
39 Cristobal Huet
"Mike Hardman should have a role with the Blackhawks next season"
These players brought the Stanley Cup back to Chicago for the first time since 1961, and boy was it an amazing celebration in the city of Chicago that summer.