Blackhawks Business: What To Do With RFA Alexander Nylander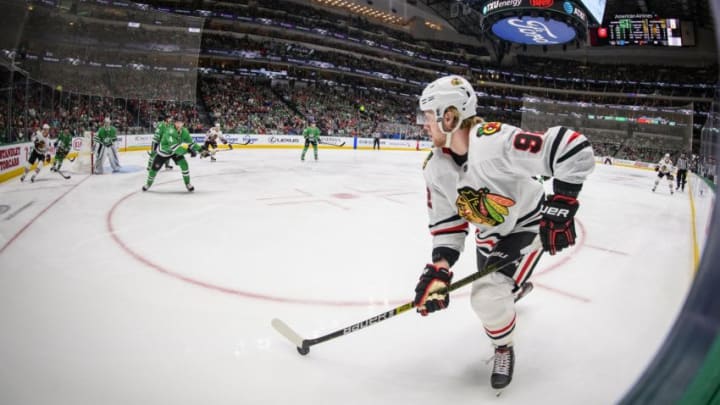 Alex Nylander #92, Chicago Blackhawks Mandatory Credit: Jerome Miron-USA TODAY Sports /
Part of the Chicago Blackhawks' offseason will involve the evaluation of pending free agents. In this episode of Blackhawks Business, we will take a look at Restricted Free Agent (RFA) Forward Alexander Nylander.
There is perhaps no player more polarizing in the Blackhawks fan base than Alex Nylander. Acquired in a trade for Henri Jokiharju, a promising young defenseman drafted in the first round by the Blackhawks in 2017, Nylander, himself a former first-round pick, was a physically talented player who had not been able to put it all together for the Buffalo Sabres organization.
Nylander had only played 19 NHL games prior to being traded and generated a total of 6 points in those 19 games. He has decent size (6'1, 192 lbs) and boasted an impressive combination of hands and shooting ability. Stan Bowman was betting on his talent being able to be realized, and at the same time, helping clear a logjam of young Right-Shot Defensemen in the 'Hawks organization.
On the offensive end of the ice, Nylander has a solid skillset. He fit in well on a couple of different line combinations and had stretches of really nice play, coupled with stretches where he was invisible on the ice. Sounds a lot like his brother William, who plays for the Toronto Maple Leafs.
Because of 2 years of his entry-level contract sliding (too few NHL games played), Nylander is finishing the last year of his ELC, with an $863K Cap Hit (Per Cap Friendly). A future contract for him based on his performance and coming off an injury, his qualifying offer should be in the $875K range. He is not eligible for salary arbitration.
More from Blackhawk Up
The Case For Re-Signing Nylander
I think you can boil this down to one word: potential. Nylander has a ton of offensive skill, and if you could ever get him to put in full effort on every shift (maybe watching Brandon Hagel would be a good thing for him?), you might have yourself a player who could factor into the top 6.
Nylander has had bursts where he is an effective scorer, which is something the 'Hawks need. They need the scoring to be spread beyond Kane, DeBrincat, and Kubalik. Having another player who can contribute 20 goals would be a huge boost to the offense. However, Nylander has not come close to that level yet.
After the pause last season, Nylander was one of the bright spots of their training camp before the return-to-play in the bubble (story here). He showed speed on the ice, a strong shot, and was making plays consistently. But again, when the Play-in round started, he was invisible, failing to record a point in 8 games in the Edmonton Bubble.
The Case For Moving On From Nylander
Again, one word sums it up: consistency. Or in this case, a lack thereof. Nylander has not been able to sustain any level of consistently good play. His performance is that of a 4th line winger, but his overall skill set screams top 6.
One of the primary drivers of Coach Jeremy Colliton's system is maximum effort at both ends of the ice. Nylander doesn't seem to care much about his defensive effort, and his effort in the offensive zone is inconsistent at best. That doesn't win you any minutes with this staff and will continue to hamper any minutes he could earn.
The Verdict
In short, I don't think Nylander will ever figure out how to be a 2-way player. I think the 'Hawks should move on from him. Because this was his second chance, I don't believe he is even tradeable after a qualifying offer. I would let him become an Unrestricted Free Agent (UFA) by not tendering him an offer, and if no one signs him, you'll know the rest of the league feels the same.