Blackhawks: Tyler Johnson helped pave the way for a player like DeBrincat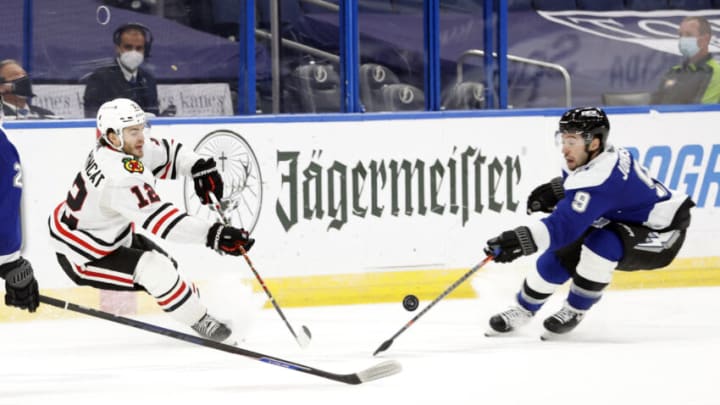 Alex DeBrincat #12, Tyler Johnson #9, Chicago Blackhawks Mandatory Credit: Kim Klement-USA TODAY Sports /
Before there was Alex DeBrincat, Tyler Johnson was one of those undersized players in the NHL. While DeBrincat was a skilled forward, his size turned a lot of teams away, so many that the Chicago Blackhawks were able to draft him in the second round in 2016. Johnson had a similar path to the NHL.
Tyler Johnson and Alex DeBrincat are two similar players both now with the Chicago Blackhawks.
Johnson's path to the NHL saw him get passed up in the NHL draft. The now elite forward with two Stanley Cup Championships under his belt went undrafted before signing with the Tampa Bay Lightning in March of 2011.
Johnson did not play an NHL game until 2012-13, but it was the 2013-14 season that saw him become an NHL regular and play 82 games. Johnson has had three seasons where he has hit or past 50 points in year, and maybe next season will be when he hits that mark again with a new team.
Johnson is a very similar player to DeBrincat. They are both undersized and rely on a good shot to find success in the league. I do think that DeBrincat is going to have a bigger career than Johnson did though.
More from Blackhawk Up
DeBrincat has become not only a great offensive player in this league. In the last few seasons, fans have watched DeBrincat backcheck and play a great all-around game, not just in the offensive zone. The fact that he is not the biggest player has not stopped him, and I think he will remain as one of the Blackhawks' top players for many years to come.
Chicago's decision to add Johnson this offseason does raise one question. How is the team going to handle having two 5'8″ players? The two probably shouldn't share a line as the size gap would be very large compared to other team's rosters.
While I think a DeBrincat-Johnson-Kane line would be fun to watch on the power play or during certain situations during the game, I think Colliton and the coaching staff are going to have to keep in mind the fact that some of these players are on the smaller size and should be paired up with a physical player to level out the lineup.
Johnson's best playoff run was in 2015 when he put up 23 points on the way for the Lightning to get beat by Chicago in six games. Hopefully now playing for the Blackhawks he will find that next level again with Chicago.