Finally There Will Be Some Form Of Blackhawks Hockey Tonight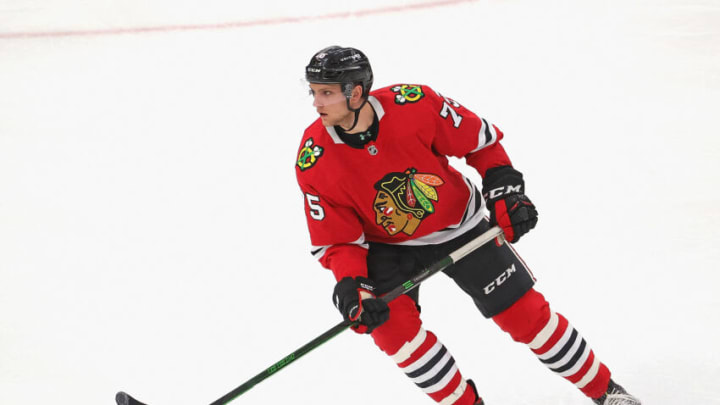 Alec Regula #75, Chicago Blackhawks (Photo by Jonathan Daniel/Getty Images) /
It might not be a lot of the players on the roster, and it might just be on youtube. But there is a Blackhawks hockey game tonight to watch!
The Chicago Blackhawks and Minnesota Wild are playing in the Tom Kurvers Prospect Showcase in Minnesota on Friday and Sunday. The first game will be Friday at 7 p.m. and will feature a few names from the NHL roster in the past. Here is the complete list of players competing in the showcase that the Blackhawks announced earlier this week.
Andrei Altybarmakian
Evan Barratt
D.J. Busdeker
Colton Dach
Carson Gicewicz
Mike Hardman
Kale Howarth
Jalen Luypen
Dmitri Osipov
Jakub Pour
Lukas Reichel
Josiah Slavin
Michal Teply
Chad Yetman
Nolan Allan
Louis Crevier
Ethan del Mastro
Jakub Galvas
Michael Krutil
Isaak Phillips
Alec Regula
Tom Aubrun
Cale Morris
Arvid Soderblom
Now there are some players on the roster that have played in the NHL in the past. Alec Regula and Mike Hardman are the two highlights of the roster when it comes to making an impact on the NHL roster last season. Both made their debuts and looked pretty good. Besides that having Lukas Reichel and Nolan Allen, the previous two first-round picks, is pretty cool as well. Allen recently signed his entry-level contract as well.
Another exciting name to watch wi be Colton Dach, Kirby Dach's younger brother. How he does during the tournament could show whether or not drafting him in the second round was a good move.
With puck drop tonight at seven o'clock central time I know I will be tuning in to the Minnesota Wild's youtube channel to catch this game. Hopefully, Lukas Reichel can lead this team to a victory and maybe it will lead to a roster spot this season for him, even if it might be better to give him one year in the AHL.