Cohesion and Consistency Are What the Blackhawks Lack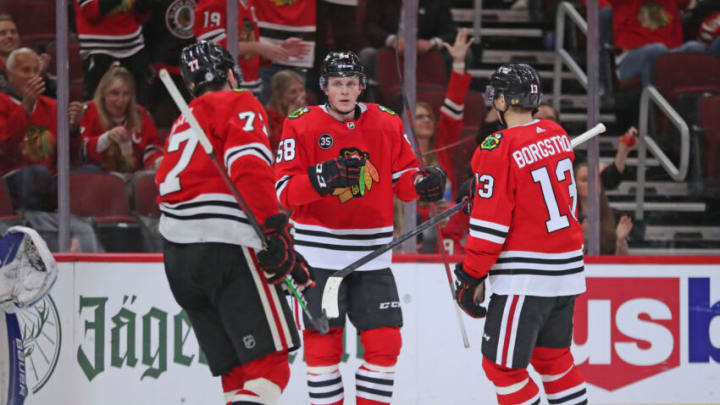 Oct 19, 2021; Chicago, Illinois, USA; Chicago Blackhawks right wing MacKenzie Entwistle (58) celebrates scoring a goal with center Kirby Dach (77) and Chicago Blackhawks left wing Henrik Borgstrom (13) during the third period against the New York Islanders at the United Center. New York won 4-1. Mandatory Credit: Dennis Wierzbicki-USA TODAY Sports /
After suffering four losses out of the gate at the start of this season it is becoming painfully obvious what this Blackhawks team desperately needs: some line consistency. With consistency also comes cohesion but thus far it seems as if none of the line combinations that have taken the ice will work long term.
Look at any contending team this year or past championship teams and you'll always find one or two lines that are stalwarts and always seem to perform well together on the ice. One that comes to mind right off the bat is from this Blackhawks team back when they were perennial winners in the early 2010s.
The line of Jonathan Toews centering Patrick Sharp and Marian Hossa was consistently one of the best lines in hockey and a two-way threat every time they were on the ice. Marcus Kruger, Viktor Stalberg, and Michael Frolik was another Joel Quenneville favorite from the 2013 Stanley Cup-winning season.
The Islanders, to whom the Blackhawks suffered their fourth straight loss in their home opener, and their head coach Barry Trotz proved that even more by sending out Casey Cizikas, Matt Martin, and Cal Clutterbuck nearly every time Jonathan Toews was on the ice.
The line of Toews, Dominik Kubalik, and Philipp Kurashev was shut down completely by their physical play, defense, and forechecking. Clutterbuck even scored the goal to make it 3-0 at the time. Martin had two big hits that should be looked at by the NHL safety committee. One of those came in the 3rd period on Mike Hardman and initiated a scrap with Jujhar Khaira.
That shutdown line allowed their teammates to be more open on offense and eventually wear the Hawks down so they could score some goals. It worked as they put up 3 on the board in the final frame.
The Blackhawks haven't shown signs of finding any line combination that can boost their entire squad like that. Some would argue that the season is young and there are a lot of new faces in town but that's what the preseason is for and Jeremy Colliton has yet to prove that he's capable of putting together a good unit.
MacKenzie Entwistle and Brandon Hagel had appeared to find some chemistry in some of the exhibition games but were quickly broken up by Colliton for some reason. Now Hagel is skating with Patrick Kane and Kirby Dach on the first line while Entwistle is centering the fourth. Putting them together again with Dylan Strome in between would cause a lot of problems for opposing teams but it's unclear whether that is the direction the head coach is looking to go.
In these first four games of the regular season, the Chicago Blackhawks haven't looked like a cohesive unit in any way. It looks like every player is on a line by themselves and they look lost. It is going to take either a change of head coach or a change of philosophy from Colliton if that is going to change. It is necessary to have four solid line combinations to turn this season around and have any chance at contention. These players are talented individuals but without a solid foundation or system, they will get beaten by teams that have it all together.