Blackhawks: If you don't have anything nice to say…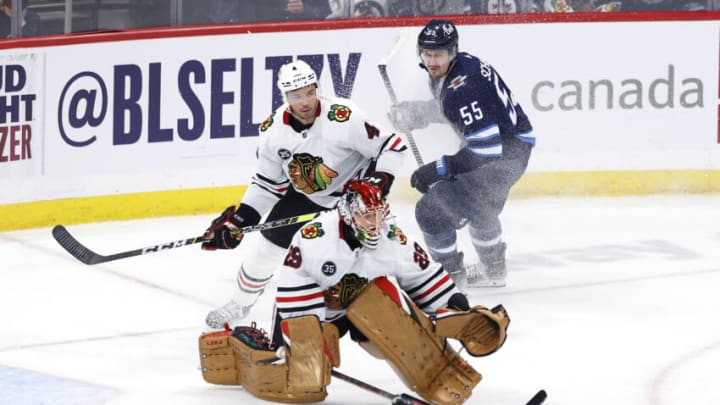 Seth Jones #4, Chicago Blackhawks Mandatory Credit: James Carey Lauder-USA TODAY Sports /
The Chicago Blackhawks lost another game, boy am I getting used to saying that. This time the team lost to the Winnipeg Jets in a nail-biter, 5-1.
Kyle Davidson definitely has a lot to consider right now with the way the Chicago Blackhawks have been playing. The team is now 1-9-2 through the first twelve games of the season, even though the moves this offseason definitely showed them being a contender.
At this point, the Blackhawks making the playoffs would be the biggest surprise of the season. The team has been horrendous through the first 12 games – which oh by the way is 15 percent of the year with four points to show for it.
At some point, a change has to come right?
Stan Bowman is not the general manager of this team anymore, but the damage he put on the roster this offseason by buying in on a playoff run is already done. The team doesn't have a first-round pick unless of course, they win the lottery – which is never a guarantee despite the worst record around.
The Hawks have won just one game of their first 12, and I am not going to lie I do not know when a realistic win is coming. Here are some of the next matchups for the team:
The Hawks' next two games are against the Predators and the Penguins. Those could probably be counted in the loss column already. After that, the team plays the Coyotes which I mean come on. If this team doesn't beat them that is when the trades and coaching changes have to start right?
Last night's game was a reminder of those early games of the season when the team just looked lost. Chicago has lost a lot of winnable games, but if they continue to play like they did last night they would be lucky to win five more this season.
A change has to come eventually right?