2 Mock Trades for Patrick Kane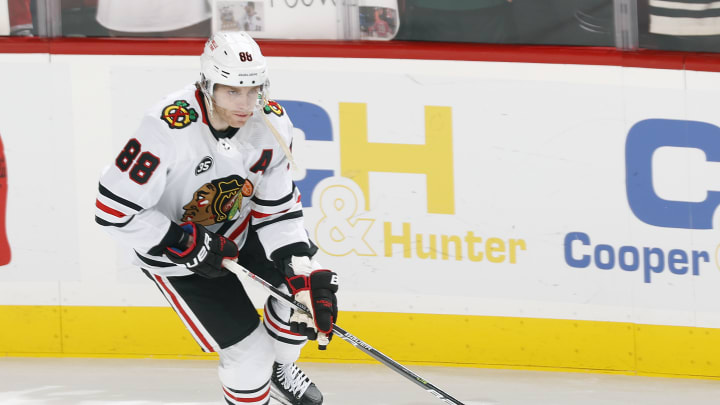 Patrick Kane - Chicago Blackhawks v Florida Panthers / Joel Auerbach/GettyImages
The Blackhawks are embracing the rebuild, so where does that leave Patrick Kane, who likely wants one more run at a Stanley Cup sooner rather than later?
It's no secret that the Blackhawks have embraced the rebuild and will continue to do so next season. If this does indeed become the case and the team begins to struggle in the early stages of the 2022-23 season, could they look at trading superstar forward Patrick Kane?
The 33 year old has been the face of the Blackhawks franchise since he came into the league, and has slowly built a reputation as one of the best players in team history. This season, Kane has 91 points through 75 games so he has proven he still has his scoring touch, and will likely have it for a few more years before he even starts to slow down.
These stats and facts alone prove that the veteran Kane will be valuable for years and if the Blackhawks decide to trade him, the return will still be substantial. There is one year left on his contract, which has a cap hit of $10.5M. There are only a few teams who would have the assets and money to make it work, but here are two mock trades that could happen, in the rare chance that Kane gets moved next season.
Rangers make the move, go all in
Rangers Receive: Patrick Kane, 2nd Round Pick
Blackhawks Receive: Alexis Lafreniere, Mika Zibanejad, Barclay Goodrow, 1st Round Pick, 2nd Round Pick
For the Blackhawks, they get a young star in Alexis Lafreniere, two really solid guys that they can stick anywhere in the lineup with Zibanejad and Goodrow, and finally start adding some draft assets with a 2nd round swap and a 1st round pick. While Kane is 33, Goodrow is 29, Lafreniere is turning 21 this October, and Zibanejad is also 29, so the Blackhawks get younger, and the Rangers go all in. 
The money here works, the Hawks would be clearing up some cap space but not much. This deal only happens if the Rangers bomb in their playoff run this season, and decide they need to bring in a new star. The chemistry between Panarin and Kane from their time together in Chicago a few years back makes this trade even more beneficial for the Rangers.
Kane currently leads the Blackhawks in points and will likely finish the season 1st on the team. Zibanejad has 80 points through 79 games and sits at 2nd in Rangers scoring, while Goodrow and Lafreniere sit at 7th and 8th respectively. Goodrow has 31 points through 76 games while Lafreniere has 29 through the same amount. 
This deal would rock the hockey world. Kane going to the Rangers amongst a Vezina trophy favorite, a Norris trophy favorite, and an elite forward group that will only get better as the years go on, would have the Rangers as a cup contender for years to come. The Blackhawks on the other hand, say goodbye to a legend, but bring in the depth they need in their lineup, and use the trade to begin building a Stanley Cup contending roster. Lafreniere only continues to get better and will turn himself into a top 6 forward. Zibanejad is already a star in this league, and Goodrow is a fantastic middle 6 role player.
Blackhawks offer to retain 50%, Edmonton goes all in
Oilers Receive: Patrick Kane (50% Retained)
Blackhawks Receive: Tyson Barrie, Raphael Lavoie, Philip Broberg, 1st Round Pick, 2nd Round Pick, 3rd Round Pick
This one is more of an Oilers fan's dream, but it'll be fun to talk about. The Blackhawks offer to retain 50% of Kane's contract to facilitate a trade to a team he wants to go to, and let's assume that's Edmonton. The Oilers will have to give up an NHL ready player, 2 prospects and 3 picks, as listed above. Maybe not those exact players, but it makes sense for this mock trade. 
Barrie and Jones are similar players, offensive defensemen with weak D zone play. But, with Jones improving his 200 foot game, he will be able to keep his role as power play quarterback and have Barrie in the bottom 4, who can take over for Jones barring injuries. If that doesn't pan out, Barrie will still be someone who is easy to trade for even more assets. 
Lavoie and Broberg are both solid prospects for the Blackhawks to pick up. Broberg is almost NHL ready, while Lavoie has the potential to be a middle 6 forward. Both players will add to the strong prospect pool the Blackhawks are attempting to assemble. 
The Oilers complete this trade to finally add that third superstar caliber player the team has been looking for, for years. Patrick Kane playing alongside McDavid OR Draisaitl creates the most dangerous forward group in the NHL and for what they give up to the Blackhawks, it's more than worth it for both teams who acquire what they need.