Chicago Blackhawks' Busy Week Leaves Questions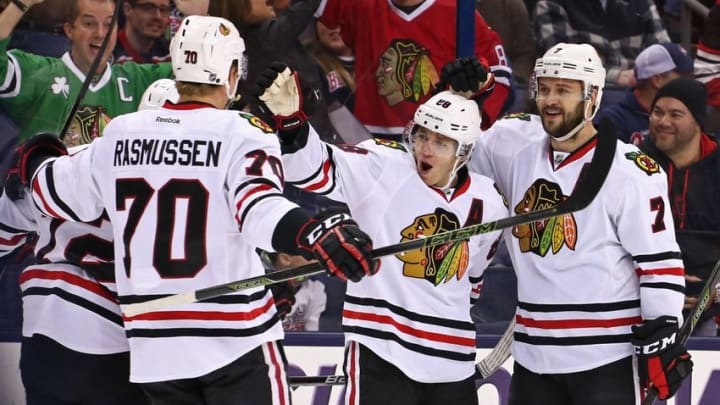 Apr 9, 2016; Columbus, OH, USA; Chicago Blackhawks right wing Patrick Kane (88) celebrates with teammates defenseman Brent Seabrook (7) and left wing Dennis Rasmussen (70) against the Columbus Blue Jackets at Nationwide Arena. The Blue Jackets won 5-4 in overtime. Mandatory Credit: Aaron Doster-USA TODAY Sports /
Questions About Future Persist After Chicago Blackhawks' Busy Week
On Wednesday, the Chicago Blackhawks traded Bryan Bickell and Teuvo Teravainen to the Carolina Hurricanes for a 2017 draft pick and the 50th overall pick in this month's NHL Entry Draft. The trade, while unpopular for some, was necessary for the Blackhawks to have any hope of making it under the NHL's expected salary cap.
The other main reason that the move was made was to have a chance to re-sign top players that the organization doesn't want to lose like Andrew Shaw and Artemi Panarin.
The trade also gives Chicago a pick within the first 50 in this year's NHL Entry Draft, which is huge, as well as another pick in next year's draft which is going to be hosted in Chicago.
Check it out: Keith Critical To Blackhawks
So far, Chicago has eight picks in next week's draft and in 2017, including a pick in the first, second and third rounds next year. Chicago has a need for youthful talent that will be affordable, and while the Blackhawks did just trade Teravainen away, draft picks to build for the future beyond Patrick Kane and Jonathan Toews are very important.
Contending Roster?
Speaking of building a roster for the future, the Blackhawks as of right now are in a bit of a pickle for filling out what would look like a Stanley Cup contending roster.
Being tied for the second-best odds to win the 2016-17 Stanley Cup, the Blackhawks' current roster would look like the one below, complied by Blackhawks Breakdown on Twitter:
That is a lot of Rockford IceHogs in Chicago. Granted this roster is based on what they have RIGHT NOW, and doesn't factor in the possibility of re-signing Shaw, or that the Blackhawks could make other roster moves to sign new free agents.
More from Blackhawks News
The other big question mark this offseason has been when 2014 first-round draft pick Nick Schmaltz would sign with the Blackhawks.
Today we may have an answer:
With the Bickell and Teravainen trade giving away one 20-something skilled winger, the Blackhawks are able to sign another 20-something with huge upside in Schmaltz. The signing of Schmaltz would suggest that both parties are ready for him to make an immediate impact at the NHL level.
Trying to avoid another lost drat pick like Kevin Hayes, the Blackhawks could potentially have Schmaltz skip his rookie time with the IceHogs and join the NHL roster right away if they feel he is ready. Schmaltz on the NHL roster would give them more flexibility with their line pairings and could even see Schmaltz paired with Toews and Marian Hossa on the top line. Maybe.
Draft Strategy
As it stood before June 15, the Blackhawks' first pick in the 2016 NHL Entry Draft was going to be in the third round, 83rd overall. But, because of the Bickell/Teravainen trade, the Blackhawks jump into the second round with the Hurricanes' 50th overall pick. Getting into the second round is huge for Chicago because it allows them to address their needs with a higher quality prospect at 50th.
Check it out: Rumors Say Blackhawks, Schmaltz Agree To Contract
Chicago's depth in recent memory hasn't been much of an issue as players like Shaw, Teravainen and Brandon Saad have had experience jumping into the NHL and making an immediate impact. But last season shone a bright light on the current state of Chicago's depth issues, especially on the blue line.
While Chicago has talented defensive prospects like Ville Pokka and Gustav Forsling, neither one was drafted by the Blackhawks. If Chicago can find the right player, a defensive selection at No. 50 would be a welcomed addition. Players like Victor Mete with London (OHL), Josh Mahura with Red Deer (WHL) or Cam Dineen with North Bay (OHL) could all be in play at the 50th pick and could be great fits with the Blackhawks defensive group.
Free Agency
Lastly, the free agency market this summer is going to be flooded with talent. Steven Stamkos, Kyle Okposo, David Backes and Milan Lucic, to name a few, are top players that will be looking for top dollar starting July 1.
The Blackhawks have their own targets to worry about before thinking, 'Oh, let's go for Stamkos!' (By the way, never going to happen.) Shaw, Dennis Rasmussen, Brandon Mashinter, Mark McNeill and Michal Rozsival are a few of the restricted and unrestricted free agents the Blackhawks have to decide what to do with after the NHL Entry Draft.
Next: Nick Schmaltz To Sign With Chicago?
Shaw is going to see the biggest push to re-sign by Chicago and the chips will fall into place from there once a deal, or no deal, is made. Outside of that, as it stands now, Chicago doesn't look like a major buyer in the free agent market this summer.
Lots of questions to be answered in the next few days for Chicago. What do you think will happen? Let us know in the comment section. Buckle up and get excited, folks.