2016 NHL Awards: Predicting The Winners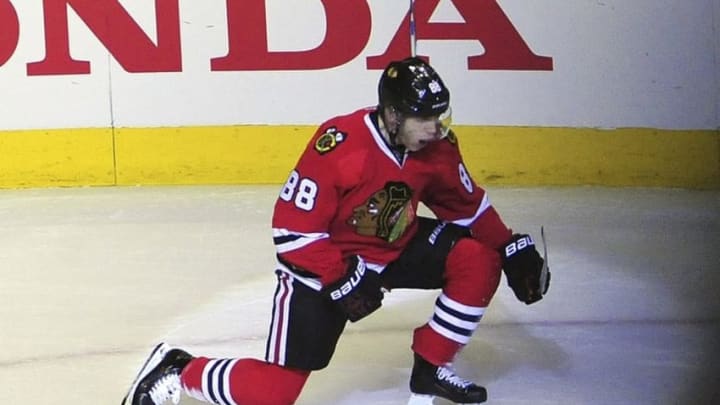 Apr 3, 2016; Chicago, IL, USA; Chicago Blackhawks right wing Patrick Kane (88) celebrates his goal against the Boston Bruins during the first period at the United Center. Mandatory Credit: David Banks-USA TODAY Sports /
Another Year Of NHL Awards Will Be Handed Out Tonight
While the 2016 NHL draft begins Friday, the league has other business to take care of tonight. The annual NHL awards ceremony will be held in Las Vegas, with some of the best players vying for a few pieces of hardware.
In this post, we're going to take a crack at the winners of some of these awards: the Vezina Trophy (top goaltender), the Calder Memorial Trophy (top rookie), the Jack Adams Award (top coach), the Norris Trophy (top defenseman), the Selke Trophy (top defensive forward) and the Hart Memorial Trophy (league regular-season MVP).
Without any further delay, let's get started with some predictions.
Apr 3, 2016; Chicago, IL, USA; Chicago Blackhawks left wing Artemi Panarin (72) celebrates his goal in front of Boston Bruins defenseman John-Michael Liles (26) during the second period at the United Center. Mandatory Credit: David Banks-USA TODAY Sports /
Calder Trophy Winner: Artemi Panarin, Chicago
Runners-up: Connor McDavid, Edmonton; Shayne Gostisbehere, Philadelphia
A lot of people outside of Chicago don't want to see Panarin win this award, as the 24-year-old is far from a rookie of hockey. But until the rules have been changed regarding who is an NHL rookie and who isn't, players like Panarin will be eligible for the Calder. And he's earned it this season.
In 80 regular-season games — a pretty high total considering his previous high in Russia was 54 — Panarin notched 30 goals and 47 assists, leading all rookies in both categories. His pairing with Patrick Kane and Artem Anisimov produced instant chemistry and results, essentially dragging the Blackhawks through stretches of the season.
McDavid is the true rookie and former top overall pick. He missed half the season with a broken collarbone and still produced 48 points in just 45 games. This is who a lot of the NHL fandom seems to want. I don't think it's impossible that they'll get to see it, but I think it's more likely Panarin take the prize based on a more complete and still impressive body of work.
Gostisbehere, unlike Quick with the Vezina, is very deserving of this honor as well. He was a huge reason the Flyers made the postseason with 17 goals from the blue line and a rookie defenseman high in points at 46, including 22 powerplay points. He's just overshadowed by the other two guys in the race.
Apr 1, 2016; Denver, CO, USA; Washington Capitals head coach Barry Trotz on his bench in the third period against the Washington Capitals at the Pepsi Center. The Capitals defeated the Avalanche 4-2. Mandatory Credit: Ron Chenoy-USA TODAY Sports /
Jack Adams Winner: Barry Trotz, Washington
Runners-up: Gerard Gallant, Florida; Lindy Ruff, Dallas
Again, this is a case of being unable to overlook the statistics. Trotz had a pretty good team in place to begin with. Ruff had a good enough offensive unit with the Stars, all he needed to do was be his usual red-ass self and his team would succeed in spite of its goaltending.
But Gallant was working with a relatively young group (Jaromir Jagr and Roberto Luongo aside) that was expected to maybe contend for a wild-card spot. The Panthers did far better than that, leading the Atlantic Division for most of the season before winning it.
And yet, Trotz's team won the President's Trophy in really dominating fashion, setting a franchise record for wins with 56. To go with that, Trotz hasn't won the Jack Adams in his previous two nominations. Third time will probably be the charm here — 25 percent sympathy votes, 75 percent team domination votes.
Apr 2, 2016; Philadelphia, PA, USA; Ottawa Senators defenseman Erik Karlsson (65) during the first period against the Philadelphia Flyers at Wells Fargo Center. The Flyers won 3-2. Mandatory Credit: Derik Hamilton-USA TODAY Sports /
Norris Trophy Winner: Erik Karlsson, Ottawa
Runners-up: Drew Doughty, Los Angeles; Brent Burns, San Jose
More from Editorials
I really hope the voters don't screw this one up. While some of their hearts may say "Pick Doughty," since he's a three-time nominee but zero-time winner of this award like Trotz with the Jack Adams, Karlsson really deserves this one. And I hate using the word "deserve" in sports, but it's so true here.
Yes, Karlsson's team didn't make the playoffs, but he was the reason the Senators were within shouting distance until late in the season. In fact, he was probably the sole reason the team played better than 70-point hockey.
He played in all 82 games, recording an obscene 82 points from the blue line. He had 2 points on the powerplay, saw an average of 28:58 ice time per game (up 1:43 from his previous career high) and carried play at a 52.1 percent rate. He's the first defenseman to tally more than 80 points since the 1995-96 season.
It's hard to overlook Doughty's stats (51 points, 58.9 Corsi-for, plus-24 rating), but the Kings didn't need Doughty as much as the Senators needed Karlsson. Karlsson had the biggest impact at the defense position and proved to be the most adept at it throughout the season.
Burns had 75 points in 82 games and has an awesome beard, but he picked the wrong year to be a nominee.
Mar 29, 2015; Raleigh, NC, USA; Boston Bruins forward Patrice Bergeron (37) looks on against the Carolina Hurricanes at PNC Arena. The Boston Bruins defeated the Carolina Hurricanes 2-1 in overtime. Mandatory Credit: James Guillory-USA TODAY Sports /
Runners-up: Anze Kopitar, Los Angeles; Ryan Kesler, Anaheim
It should be a pretty easy win for Bergeron, not because his competition is poor, but because Bergeron is just that good at both ends of the ice.
Yeah, the Bruins melted down spectacular to lose their playoff spot, but it's hard to blame Bergeron for it. His 32 goals were a career high, and his 68 points were the most he's posted since 2006-07. He had 25 powerplay points, three shorthanded points and six game-winning goals on the season.
He also won 57.1 percent of his faceoffs, among the league leaders, while playing 19:50 of ice time per night, his highest mark since 2006-07. He also had 77 hits, 56 blocked shots and a close to 2:1 ratio of takeaways to giveaways. Pair that with a 56.0 percent Corsi-for mark, and you've got a four-time Selke winner.
Kopitar and Kesler certainly have their positives, as they've both have been nominated for this award multiple times in the past. But Bergeron's success at both ends of the rink is too hard to overlook.
Dec 21, 2014; Chicago, IL, USA; Chicago Blackhawks right wing Patrick Kane (88) right is defended by Toronto Maple Leafs defenseman Morgan Rielly (44) left during the first period of their NHL game at United Center. Mandatory Credit: Kamil Krzaczynski-USA TODAY Sports /
Hart Trophy Winner: Patrick Kane, Chicago
Runners-up: Jamie Benn, Dallas; Sidney Crosby, Pittsburgh
This one also shouldn't be that difficult, especially considering these are regular-season awards and not awards that have anything to do with postseason performance. If these awards had basis in the playoffs, Kane might be in trouble due to Crosby winning the Stanley Cup and Conn Smythe Trophy. But that isn't a concern.
Kane had one of the most impressive regular seasons in recent history, with his 106 points making him the first American-born NHL scoring title winner. He had that 26-game points streak which set a franchise record, an American-born player record and was the longest since 1992-93. He carried the Blackhawks at several points throughout the season. The proof is in the pudding, as they say.
Next: Blackhawks Aren't Finished Making Moves
Crosby had a super impressive second half with 58 points in his last 44 games, pushing the Penguins from afterthought to playoffs bound. Benn posted 89 points while playing in all 82 games, forming part of the league's most dominant line with Tyler Seguin and Patrick Sharp.
But this really shouldn't be a difficult decision for voters. It's Kane or nobody.