Chicago Blackhawks' Bottom-Six Forwards Projection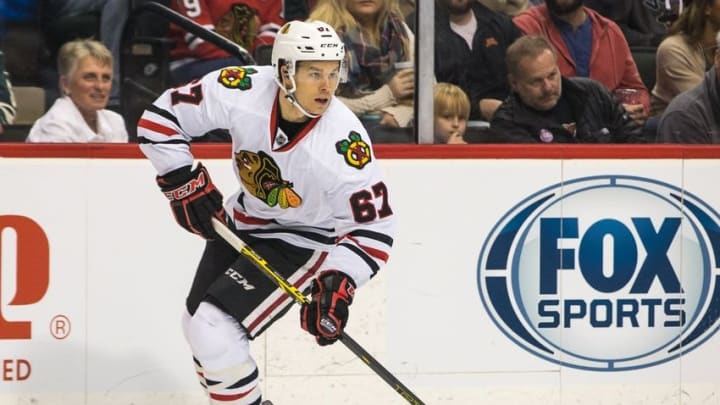 Oct 30, 2015; Saint Paul, MN, USA; Chicago Blackhawks forward Tanner Kero (67) skates with the puck during the first period against the Minnesota Wild at Xcel Energy Center. Mandatory Credit: Brace Hemmelgarn-USA TODAY Sports /
The NHL season will be here before we know it, but the Chicago Blackhawks' roster is far from set
We've been waiting for hockey for some time now, and we're going to get it in a few days with the World Cup. But NHL hockey is still a little longer off, with training camps opening during the World Cup and the regular season beginning on October.
The Chicago Blackhawks, like many teams, have some decisions to make on their roster. While the defense seems mostly set, with only the sixth defenseman spot still up for debate, the forwards are in a state of flux.
The second line of Artemi Panarin–Artem Anisimov–Patrick Kane will stay put, one would hope. Jonathan Toews will be on the top line, and Marin Hossa certainly could be to start the season. Other forwards we can pencil into the roster include Marcus Kruger, Andrew Desjardins, Richard Panik and Jordin Tootoo.
More from Editorials
But what should we make of the Blackhawks' bottom six, at this point? The first line is certainly a point of concern, with only Toews locked in on it. But the bottom six is a complete toss-up, with only Kruger and Desjardins set as regular starters there (hopefully Tootoo isn't a "regular starter" anywhere).
So let's look at some guys who could lock up spots in the bottom six ahead of the season opener.
We'll start with this unfortunate name, because I just want to get him out of the way. What I think Joel Quenneville plans to do is carry both Tootoo and Mashinter, then rotate them in and out as the useless forward — I mean, grit player.
So I'd say Mashinter's chances of making the roster are better than 75 percent, even if he doesn't deserve a spot.
Moose has become a bit of a forgotten man this offseason, what with the Blackhawks desperately needing scoring and younger, more offensively-inclined options available. Rasmussen was fine last season as a fourth-line center, but he was generally just treading water.
I'm honestly not sure of Rasmussen's chances of making the opening night roster. Sure, he was with the team for a large part of last season, but with the Blackhawks needing offense — especially from the bottom six — nine points isn't going to cut it. He'll be an interesting case.
Jan 21, 2016; Tampa, FL, USA;Chicago Blackhawks right wing Richard Panik (14) works out prior to the game against the Tampa Bay Lightning at Amalie Arena. Mandatory Credit: Kim Klement-USA TODAY Sports /
Richard Panik
He's going to be on the opening night roster, barring a massive letdown in training camp. But where he plays is the current unknown. Some fans want him on the top line after a strong showing in the 2016 postseason. Others don't think he can last there over the course of a season.
I'd say Panik winds up starting the season in the bottom six, maybe playing alongside Kruger and someone else. I wouldn't be surprised if he winds up on the top line at some point, but I also think Q has other plans for that right now.
Nick Schmaltz
This might be the "other plans" I just mentioned. If Schmaltz shows enough in camp — AKA, if he shows he can play some defense as a forward — he's probably going to crack Chicago's roster. And I think Q could then go with a Schmaltz-Toews-Hossa top line.
Yeah, Hossa could and probably should wind up in the bottom six at some point this season. But with more questions than answers right now for the forward corps, it's probably best to stick Hossa in a familiar role. Schmaltz, meanwhile, is the youngster who can provide a playmaking, scoring push for that line, something it was desperately missing last season.
I think many Blackhawks fans want to see Hartman on the opening night roster. I'm just not really sure where he fits if the Blackhawks plan to carry the two dunderheads in Tootoo and Mashinter.
You don't like to add young guys to the roster, then not play them. They're much better served getting time in at the AHL level. Hartman could be the left wing alongside Rasmussen on the fourth line, with the Tootoo/Mashinter rotation on the right. But you're getting very little production from a line like that, so I'm not sure how Hartman fits into the current plans.
If Rasmussen and/or Mashinter don't/doesn't make the roster, I like much more Hartman's chances of cracking it.
Feb 21, 2016; Minneapolis, MN, USA; Chicago Blackhawks forward Vincent Hinostroza (48) during a Stadium Series hockey game at TCF Bank Stadium. The Minnesota Wild defeated the Chicago Blackhawks 6-1. Mandatory Credit: Brace Hemmelgarn-USA TODAY Sports /
Pretty much the same thing here, as Hinostroza is an unproven offensive commodity. He had a little longer run than Hartman in the past, and he saw his struggles. But that's to be expected with the way the Blackhawks were shuffling guys around last season.
I think Hartman offers a little more offensive upside than Hinostroza, so the latter will probably have to make a big impression at camp to crack the roster.
Unless he makes the roster over Rasmussen, I don't see how Kero is part of the 23-man group to start. I wouldn't be surprised if he gets another call-up this season, but Kero offers so little offensive upside. Hartman, Hinostroza or one of the other two guys I'm going to mention would be better options for the Blackhawks than Kero right now.
Tyler Motte
I would really hate to waste Motte's talents alongside Tootoo and/or Mashinter, but he could be a guy you can't afford to keep off the roster.
Motte has shown some impressive offensive talent in the NCAA and junior national levels, and depending on what he shows in camp, he could be a tough guy to pass up. Q may prefer to start him in the AHL, get him some more seasoning. But I wouldn't be totally surprised to see Motte on the roster early.
Jan 26, 2016; Raleigh, NC, USA; Chicago Blackhawks forward Mark McNeill (41) watches the play against the Carolina Hurricanes at PNC Arena. The Carolina Hurricanes defeated the Chicago Blackhawks 5-0. Mandatory Credit: James Guillory-USA TODAY Sports /
I saved McNeill for last because I'm honestly not sure what the Blackhawks' plan for him is. There were reports last season the team had soured on the former first-round pick. Getting called up for a throwaway game against Carolina and immediately sent back down did nothing to change that view.
I think McNeill has offense to offer the Blackhawks — he posted 48 points in 66 regular-season AHL games last season — but I just don't know that they trust him enough to let him show it. At this point, if McNeill doesn't make the 2016 opening night roster, I'm not sure there's much of a future left for him in Chicago.
What did we learn?
Well … not much. I just wanted to lay out some options the Blackhawks could go to for their bottom six early on. But it's very difficult to guess who's actually going to make the roster.
Next: Blackhawks Making Waves At World Cup
The Blackhawks have a lot of work to do come training camp, and all the guys above especially have to show well when the boys hit the ice.