Editorials
Chicago Blackhawks' Realistic, Unrealistic Expectations After 10-1 Win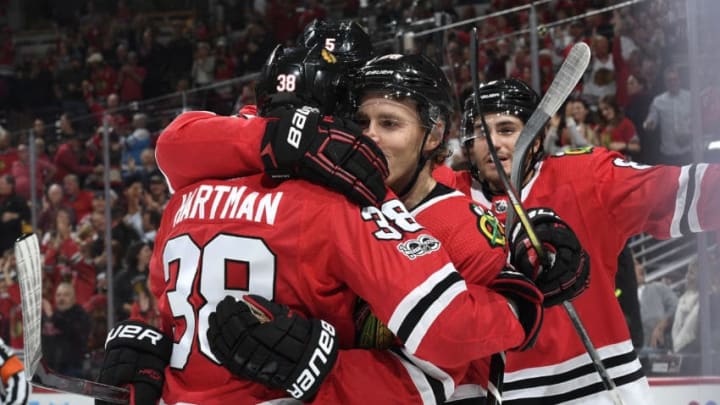 CHICAGO, IL - OCTOBER 05: Ryan Hartman /
The Chicago Blackhawks have sent hopes from uncertain to sky-high among the fan base right off the bat, after a 10-1 win over Pittsburgh on Thursday. So it's important to assess which expectations are realistic and which are not.
How could you not be pleased with the way the Chicago Blackhawks performed in their season-opening win against the Pittsburgh Penguins on Thursday? For the first time since 1988, the Blackhawks put up double digits on a foe, in a 10-1 victory at the United Center.
There were plenty of big and surprising stats thrown up by the Blackhawks, who seemed to take to heart the idea floating around that they would miss the postseason. The Chicago Sun-Times' Mark Lazerus noted the reaction of captain Jonathan Toews when he learned about some outlets' prediction for the Blackhawks this season:
The gears were probably turning inside Toews' head well before he heard that comment, with regard to how his team was being perceived ahead of the 2017-18 season. But that had to jack things up to a 10. The Blackhawks seemed very motivated against the Penguins, and it's not hard to see why.
But not every game will be like this. There are 82 regular-season games, and it's important to know which impressive Blackhawks showings could be signs of things to come and which are likely to be much more rare. Let's take a look at some from both columns now.
Ryan Hartman was certainly part of this as well, but with his spot on the new second line a little less certain — despite a five-point opener — I'm looking just at the center and right wing.
Live Feed
Da Windy City
These two had a very obvious connection Thursday, meeting up on two really solid goals for Schmaltz. Both times, Kane showed the passing prowess he's known for to give Schmaltz great opportunities. And Schmaltz finished both times — once on the backhand, and once on a one-timer.
I don't think this was a fluke, either. Schmaltz looks extremely confident after being given the second line's keys over two-year incumbent Artem Anisimov. And playing alongside Kane will make just about anyone look better offensively. I think we can expect to see more impressive offense from these two moving forward.
Unrealistic: Hartman being a scoring machine
The fact that, amid all the goals the Blackhawks were potting, Hartman was the guy to lead the team in scoring was a bit jarring. His goal off a nifty Kane pass to open the scoring was followed by four assists later in the night.
Hartman was a nice complementary scorer last season with 31 points, 12 of those coming via assist. You see where this is going — Hartman's assist total last night was a third of his ledger all of last regular season.
I'm not saying Hartman can't surpass that 12-assist mark from last season. On the contrary, if he gets extended time with Schmaltz and Kane, I think he'll easily top that point. But three of his four assists last night were of the secondary nature — AKA he was along for the ride.
Let's not get too ambitious with our Hartman point predictions. There will be nights, even if he stays on this second line, where he does not score a point. I still think Hartman breaking 50 points this season is a weighty objective.
Saad wasn't the most potent offensive threat during his initial run with Chicago, but he also didn't have to be. After a preseason and a regular-season game in 2017 in which he potted two hat tricks for the Blackhawks, though, it's clear he's pushing to be Option B in that regard.
Option A will always be Kane, of course. But Saad put on a forceful offensive show in his re-debut, asserting himself as a dangerous weapon on the top line.
Much of that was the result of Saad driving hard to the net. It's something the Blackhawks weren't great about in recent seasons, so to see Saad rewarded thrice for getting to the net is very positive. That Toews was feeding Saad on two of those plays is just as good of news.
Should we expect a hat trick a night? Of course not. But the way he looked Thursday would suggest 60 points is an easy barrier for him to break.
More from Editorials
Unrealistic: Balanced minutes
We all know coach Joel Quenneville loves to lean on his core players. So it was quite nice to see Brent Seabrook getting less time on ice than Jan Rutta, as well as Toews and Kane playing fewer minutes than Anisimov, Alex DeBrincat and Patrick Sharp.
Just don't expect this balance to continue. The Blackhawks are going to be involved in far more tight affairs than laughers, and with that will come heavy minutes for the likes of Toews, Kane, Seabrook, Saad, Duncan Keith, Richard Panik and probably Hartman, Schmaltz and Connor Murphy.
It's always nice when the Blackhawks are able to limit how much guys are on the ice, especially the older guys or the ones who have been through more playoff runs. But Keith still saw more than 23 minutes in a game that was out of hand before the first period was over. Sure, more than six of those were on the powerplay, but it's still clear Q will be leaning heavily on Keith this year.
Same goes for the top-six forwards. Only Tanner Kero did not crack 10 minutes of ice time Thursday (due to injury), but anticipating Sharp to play more than 19 minutes, John Hayden to play more than 14 or even Lance Bouma to consistently play more than 10 seems unrealistic to me.
Realistic: Corey Crawford holding down the fort
Very little ink will be spilled for Crow in this game, and that's fair. A team scoring 10 for the first time since the 80s is the story here.
But behind it all, Crow stopped 28 of 29 shots for a .966 save percentage. That's something Blackhawks fans will take on a nightly basis, even if it was against a team coming off the second half of a back-to-back.
More from Editorials
Crow will need to be the Blackhawks' best play for them to succeed regularly this season. He got things started on the right foot here. It would be an ugly look if he had given up five goals in this win, showing that his focus was not in the play as a result of all the offensive support. Instead, Crow stopped just about everything coming his way, the only mark a 5-on-3 goal from Phil Kessel.
Unrealistic: Good teams being held under 30 shots
It's going to take a lot for me to be convinced the Blackhawks' defense is any sort of "fixed." They're running an eight-man rotation that is very muddled outside Keith, Seabrook and Murphy (and preferably Michal Kempy, but probably not). It's not the most promising look.
Helping to allow just one goal to the defending Cup champions is a good start. Also, allowing fewer than 30 shots on goal is another positive. However, I don't think we should come to expect this.
Getting back to the Penguins being on the second half of a back-to-back, it was abundantly clear they were tired and had little motivation to rally after the Blackhawks bogged them down early. Even with that, and as they started getting stupid in the final 10 minutes, they still nearly hit 30 shots.
In tighter games, and against teams with strong speed and/or possession elements, the Blackhawks will probably see a lot of 30-plus shots against outings. It's why I and others keep saying Crow needs to be the best Blackhawk — because there's little sign this defense can currently prevent an opponent from showering the goalkeeper all night long.
Next: 5 Thoughts From Blackhawks' 10-1 Rout Of Penguins
But for a night, Blackhawks fans should definitely take what was given to their team in this regard. We'll see what the Blackhawks prove right and wrong with regard to my predictions as the season rolls on.