Editorials
Chicago Blackhawks' Early Enthusiasm May Need To Be Curbed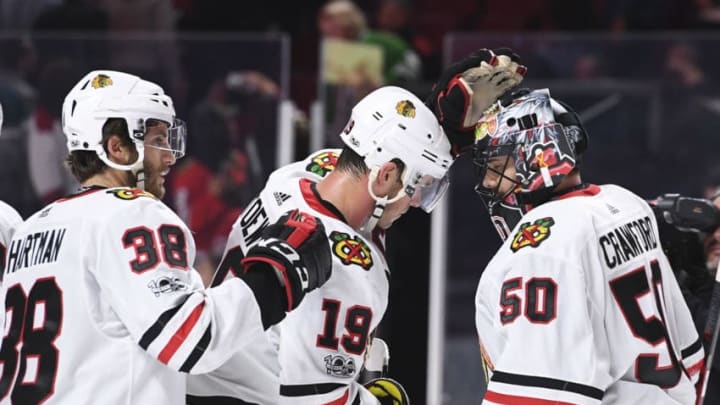 MONTREAL, QC - OCTOBER 10: Jonathan Toews /
Just four games into the season, Chicago Blackhawks fans are excited about the outlook of the 2017-18 team. But like a double shot of vinegar, I'm here to deflate the hype balloon a little bit and show some underlying numbers the team may struggle to keep up.
The start of the 2017-18 Chicago Blackhawks season has certainly been fun to watch. Twenty-one goals scored against four teams that saw playoff action just a season ago has a lot of fans really excited to see what this team can do this year.
The 'Hawks seem revitalized with the returns of Brandon Saad and Patrick Sharp, along with the addition of players like Jan Rutta and Alex DeBrincat.
While I don't want to be the one to burst any bubbles and bring the hype train to a halt, there are certainly some signs for concern moving forward that we should probably discuss. Only four games into the year, there is a lot that has happened thus far that we shouldn't expect the 'Hawks to sustain for the entire season.
Goal-scoring rate
As mentioned before, the Blackhawks have scored 21 goals in just four games. The inflated number is a product of the 10-goal outburst on opening night against the Pittsburgh Penguins, but even taking that game out, the 'Hawks are averaging almost four goals a game.
While it may be fun to imagine the offense consistently lighting the lamp four times a game all year, there is an underlying stat that has me a lot more concerned. That is the Blackhawks' team shooting percentage.
Very simply, the shooting percentage for a team or player is the percentage of shots on goal that result in a goal. The Blackhawks have only amassed 119 shots on goal thus far this year (just under 30 a game). They have scored 21 goals. That puts their shooting percentage at 17.6.
More from Editorials
For reference, the league average a season ago was a shooting percentage at 9 percent. If the 'Hawks were finding the net at this 9 percent average rate a team could expect to be around, they would only have 11 goals on the year, or fewer than three a game.
Put more simply, since the opening game against the Penguins, the Blackhawks have been outshot in three games by a total of 118 to 75. You aren't going to win a lot of games when being outshot so handily unless your goalie is playing phenomenally in net (which Corey Crawford is, but we will get to him shortly).
It has been a ton of fun to see the red light turning on so much for the Blackhawks thus far this season, but the reality is that the shooting percentage staying at the rate it is right now is just not sustainable.
While the offense has been scoring, there will become a point where the shots are not getting by the opposing goaltender as often. The 'Hawks will need to work on getting more shots to the net at that point, as they currently sit at 26th in the league in shots on goal per game.
Goaltending surge
Crawford has been absolutely phenomenal to start off the year, as many other writers have already commented in their articles on Blackhawk Up this week. While Crawford is getting some much-deserved recognition, there is still a reality that he cannot continue to play at the rate he is.
Crawford has faced 104 shots and only allowed three to get by him. At a .971 save percentage and a goals-against average of 1.00, Crawford is on an incredible pace.
But let's pump the breaks a little bit here. I am a huge Crawford supporter and am constantly backing him from the substantial amount of people out there that think he is just a good goalie playing in front of a great team. But the reality is no one can expect Crawford to keep up numbers like this all year.
Chicago Blackhawks
Putting aside what the average is for a top-10 goaltender in save percentage and goals-against average for a year, Crawford has also played some opponents this year that should have you at least raising an eyebrow.
Pittsburgh, Columbus and Montreal were all playoff teams last year, but the Penguins and Jackets both faced Crawford on the second day of back-to-back games, and the Montreal offense is anything but clicking with an average of one goal a game in their four games thus far this year.
This is not to say that Crawford cannot be an elite goaltender this year, but rather that when his save percentage starts to come down a little and the aforementioned Blackhawks team shooting percentage also starts to go down, the team will be in some much tighter games.
Crawford has played magnificently in net in his three starts, but you cannot expect him to hold every opponent to one goal a game.
Powerplay questions
While Artem Anisimov was able to find a powerplay goal last night in Montreal, the Blackhawks have only been able to score on three of their 16 powerplay opportunities so far this year. While that number only puts them a little below the league average from a season ago, the 'Hawks still seem to be having problems generating shots and pressure on the man-advantage.
The powerplay has been a concern for a number of years for the team. It was presumed that part of the reason assistant coach Mike Kitchen lost has job this past summer had to do with the Blackhawks' troubles on special teams. While the season is certainly young, the Blackhawks are not necessarily passing the eye test thus far this year when the opponent has a man in the box.
More from Blackhawk Up
The Blackhawks may still be trying to fix the kinks in their special teams, but the 'Hawks were a team that was already struggling on the powerplay a season ago while still having a dynamic scorer in Artemi Panarin on the top special teams' line.
With Panarin gone and the lifelessness we have seen from several man-advantages thus far this year, there is some cause for concern that this could be an issue for the Blackhawks all season.
If the 'Hawks continue to struggle getting shots on goal and Crawford comes back to Earth, even a little bit, the team needs to take advantage of more of their powerplay opportunities.
At this point, I would take a night of seeing sustained pressure with the man-advantage even if the team is not scoring, because right now, the powerplay seems like it won't be any more effective than it was a season ago.
Summary
These concerns are not to say that you should feel down about the way the Blackhawks have been playing thus far this year. It is always fun to see the team win, and getting seven out of a possible eight points is never a bad thing.
But taking a look deeper at the numbers such as the shooting percentage and factoring in the state of some of the opponents the 'Hawks have faced, you can tell there is a chance that some of these inflated numbers will come back to Earth and that there are areas to still improve all over the ice.
Next: Canada Trip is a Tale of Two Cities
It has been a really fun set of games to begin the year. Now, as the season starts to settle in, the Blackhawks need to continue to grow together and find a way to improve, or they could run into some major difficulties moving forward.