Chicago Blackhawks' Crawford, Forsberg Should Switch Next 2 Starts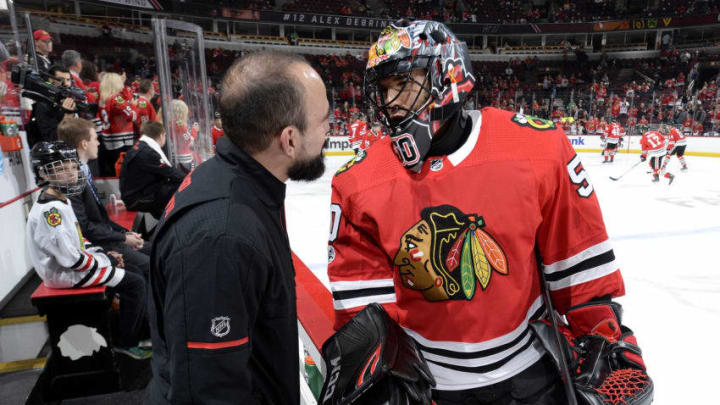 CHICAGO, IL - OCTOBER 14: Goalie Corey Crawford /
The Chicago Blackhawks have two games in the upcoming two nights — tonight against the St. Louis Blues and Thursday against the Edmonton Oilers — after three days off, and it's led to some interesting matchups in net
The Chicago Blackhawks have not played the last three nights, but they're returning to the rink tonight against the rival St. Louis Blues at Scottrade Center. Then, the Blackhawks will host the Edmonton Oilers on Thursday. A lot of fun hockey on tap, to be sure.
It's known the Blackhawks will start Corey Crawford in goal tonight against the Blues (unless coach Joel Quenneville pulls a fast one closer to game time). That would imply, then, that backup Anton Forsberg will get the call Thursday against the Oilers.
Crow has gotten off to a good start, posting four wins and a .960/1.39 statline while leading the league in save percentage and goals-against average. Forsberg looked great in the preseason and had a fine lone start against Toronto, being done in more so by the fact the Blackhawks were obliterated in possession.
So I don't know that the Blackhawks can go obviously wrong in picking their goaltenders for these two games. You'd assume Crow doesn't get both starts, as the second game of this back-to-back is at home and we're less than 10 games into the year. It was going to be one guy this night, another guy that night.
That being said, I'm not sure Q made the best choice with how he's apparently lined up Crow and Forsberg for these two games.
What do the stats say?
Unfortunately, Forsberg has faced very few teams in his NHL career. Neither the St. Louis Blues nor the Edmonton Oilers are among the small group. Of course, Crow has faced 30 of 31 teams in this league (Vegas being the exception).
More from Editorials
What do Crow's career regular-season splits say about him facing St. Louis versus Edmonton?
vs. St. Louis — 15-6-5, .917/2.28
vs. Edmonton — 9-7-0, .909/2.53
So those numbers favor him starting at St. Louis tonight, a similar situation to when the Blackhawks opted for Forsberg to play against a tougher Toronto team instead of Montreal the following night because Crow has great career numbers against the Habs.
And I don't need to tell you it's better to get a backup goaltender in during home games. The backup doesn't see nearly as much in-game action as the starter, so the advantage of having lines and pairings with last change in front of that backup cannot be overstated.
So why am I still saying the Blackhawks should roll with Forsberg tonight and Crow tomorrow? Look no further than what we saw in Toronto — not from Forsberg, but from the team in front of him.
Blackhawks not equipped to handle speed
Yes, this seemingly comes up in every post I write anymore. But it's important, and it's going to continue being important until the Blackhawks prove they can handle speedy opposing teams at least a little bit.
After storming out of the gate against the Leafs, the Blackhawks got absolutely hammered in possession. The Blackhawks won the 5-on-5 battle in the first period by a 54.05-45.95 percent margin before posting Corsi-for rates of 23.81 and 10.53 in the final two regulation periods.
That wasn't a product of the Blackhawks getting lazy or being a bad team. It was a production of the Leafs embarrassing them with the speed game and ability to make plays happen at the drop of a hat. And guess which team the Blackhawks have on their upcoming schedule can do things in a very similar fashion? The Oilers.
Live Feed
Da Windy City
Now, Edmonton is off to a bum start at 1-4-0 in its first five games. The goaltending has been abysmal, and the team isn't clicking offensively, as only Connor McDavid has more than three points on the season.
But that doesn't make the Oilers a bad team, either. Do we think the Golden Knights are going to win the Western Conference, as they would if the season ended today? Do we think Detroit and Colorado are playoff teams, as they would be if the season ended today? The Oilers' start is a blip.
And even if the Oilers were 5-0-0 right now, they'd still have a vast speed advantage over Chicago. The blue line isn't amazing in Edmonton, but it wasn't in Toronto either. The forwards can just absolutely stun you with quick feet and quicker strikes offensively. The Blackhawks looked well out of their depth handling it against the Leafs, and I can't imagine that situation being all that different despite last change against Edmonton.
The case for Crow vs. Edmonton
So back to my main point — starting Forsberg tonight and Crow tomorrow. At this current rate, Forsberg looks to be a solid backup option. But he isn't Crow, who is locked in like it's no one's business.
So why would you not put the locked-in goalie up against a team that you know is going to give you fits? The Blues are playing well, yes. But they just don't boast that team-wide speed that's going to create excess chances against the Blackhawks.
Vladimir Tarasenko can move well, and his exploits (especially against Chicago) are well-documented. But look up and down this lineup, and you'll see that while St. Louis seems like it maybe wants to get away from just staffing dunderheads, it's still not that fast of a group. I'd say it's a fairly even matchup with the Blackhawks, in that regard.
So let Forsberg have this game. The Blackhawks, even without last change, should theoretically give up fewer chances to St. Louis than Edmonton simply based on the fact the latter team is faster than the former. That benefits Forsberg.
It also gives him a taste of a very difficult environment to play in. Crow's seemingly random health issues are no secret, so what if Forsberg has to start in St. Louis down the road? Why not give him this early opportunity to see what that's all about?
Next: How Can Blackhawks Revitalize Powerplay?
Like I said at the top of this post, I don't think the Blackhawks are wrong to start Crow tonight and Forsberg tomorrow. However, I think it'd best benefit both the goaltenders and their team as a whole to make a flip-flop maneuver.