Chicago Blackhawks Prosper Most When Pressure Rises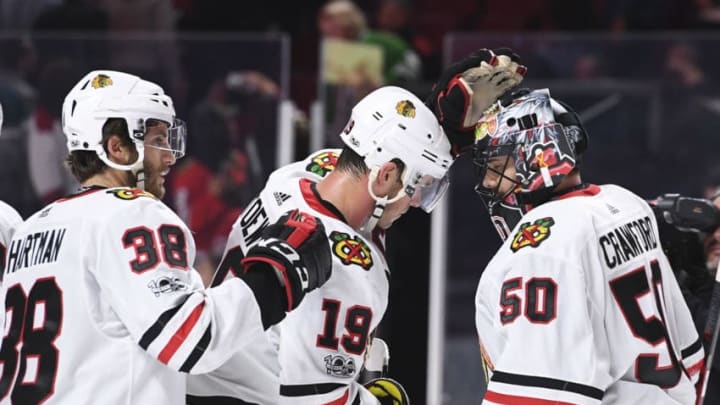 MONTREAL, QC - OCTOBER 10: Jonathan Toews /
For the most part of the Chicago Blackhawks' 2017-18'season, they haven't had much to show. They've been outworked, but have prevailed in situations where their backs were against the wall.
There have been many moments in the early stages of this season where the Chicago Blackhawks have looked dismantled, broken and, for a lack of a better term, straight up awful. They've had lackluster appearances keeping possession throughout games, looking uncharacteristic from the team we used to see destroy opponents on a nightly basis in previous years.
However, the veterans on this team know one thing: You're never out of the fight until the final buzzer sounds. It's a key component that's molded this franchise to its elite status, and it's what's propelled the Blackhawks to bounce back in games where their backs have been pushed against the wall.
It's a rare phenomenon we see in sports these days, especially with a high-caliber team like the Chicago Blackhawks. For example, when outshooting their opponents, the 'Hawks are 1-3-0 on the season. However, when they're being outshot, they're 3-2-2.
More from Editorials
Now 3-2-2 may not be the ideal record in that scenario, but with the struggles they're having up front, they'll take what they can get. Eight points out of a possible 12 is acceptable, but it needs to be better if the team wants to compete at the level it did last year.
Prosperity starts with goaltender
Throughout the 13 games the 'Hawks have played this year, it's become apparent that they're one of the leagues' worst team when it comes to keeping possession and dominating in the game. In fact, they're 29th in the NHL in regards to shots on goal when 5-on-5. That's a stat that cannot be accepted, and much change is needed.
However, despite the worry and panic that might be surrounding the team, the 'Hawks seemingly have a shining light in Corey Crawford.
Crawford has been having a magical year, being able to keep the 'Hawks' necks above high waters in the early stages of the season. Currently, he's 6-4-0 on the year with a .941 save percentage and a 1.91 goals-against average. The six wins the team has under its belt are almost all wins Crawford has stolen this year.
Next: Hinostroza Could Bring Spark Blackhawks Need
You're only as good as you want to be, and sometimes you learn how good you need to be when the times get tough. However, this effort needs to taken into the hands of everybody on the roster, not just the man guarding the crease.