NHL Surprises, Disappointments Through 20 Percent Of 2017-18 Season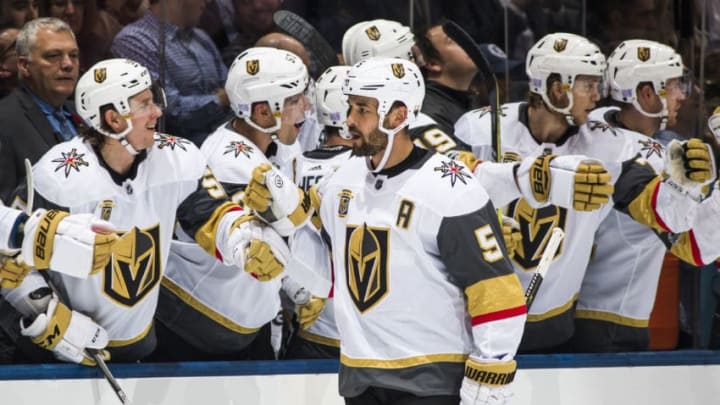 TORONTO, ON - NOVEMBER 6: Deryk Engelland /
The NHL's 2017-18 season is 20 percent complete for many of the league's teams, which means its high time to start talking about some early surprises and disappointments
Is it ever too early to gauge how things are going in an NHL season? Well, maybe. One game probably isn't a fair sample size. But many teams are reaching or have surpassed the 20 percent mark (16 games) of the 2017-18 season, so that feels like a good time to talk surprises and disappointments.
This will look at both teams and individuals who are off to strong and weak starts. And, no, it isn't going to be all about the Chicago Blackhawks. Don't worry, they'll make an appearance. Let's get to it.
Surprise: Vegas Golden Knights
This is an easy pick for the top surprise through a fifth of the season. The Knights are an expansion team playing their first-ever games. Logic would dictate, after picking through a draft mostly containing unwanted players, that the team wouldn't be all that great.
That's not how things have played out so far, though. The Knights hold second place in the surprisingly competitive Pacific Division with 19 points and have posted all nine of their wins in regulation or overtime.
Live Feed
Da Windy City
This has been done on the back of a stellar 6-1-0 record at T-Mobile Arena. When they took down an emotional opener against Arizona, many probably thought that would be the exception instead of the rule. And it still could be by season's end, but right now Vegas is tied for the second-most home wins in the league.
The bizarre thing about this is how the team keeps succeeding despite losing goaltenders. Marc-Andre Fleury has a concussion, Malcolm Subban has a lower-body injury and Oscar Dansk also has a lower-body injury. That has Maxime Lagace playing his first NHL minutes, and while it hasn't gone well so far, you have to admire that this Vegas team isn't using the goaltending injury issue as an excuse.
Only one skater who has suited up for the Knights hasn't tallied at least one point. This is a balanced offense that has survived being one of the league's worst possession teams, as James Neal and David Perron (12 points each) lead the way.
Can they continue the magic in Vegas? That remains to be seen, but it's a fun story so far.
Disappointment: Edmonton Oilers
Like I said above, the Pacific Division is pretty competitive right now. Edmonton, despite being a trendy Stanley Cup Final pick, is not part of that competitiveness.
The Oilers are slumming with 13 points in 15 games, though they did post a 3-2 overtime win over upstart New Jersey most recently. But that doesn't cast the spotlight off a one-note offense and bad goaltending.
Connor McDavid is obviously amazing, with 18 points. Leon Draisaitl (12) and Ryan Nugent-Hopkins (11) are also great. Beyond that, there's very little to smile about with the Oilers. And in front of a still-growing defense, that isn't promising.
They aren't getting any help on the back end, either. Cam Talbot masqueraded as a decent NHL goalie his first two seasons with the Oilers, but things are starting to tumble down around him. His .912/2.90 slashline is not going to win this team many games.
I think the Oilers can fix their offense and continue working on their defense, but the goaltending issue may be a season-long one. The Oilers better hope not, or they'll go from popular titlist pick to missing the postseason.
Surprise: Los Angeles Kings
What a strange season this is so far. The Kings looked old and slow in recent years, and they didn't do a ton last offseason to help that. Yet here they are, atop the Pacific Division with 24 points and already carrying 11 wins.
There are two key reasons for this, as the Kings are largely carrying the same roster that failed to make the playoffs last year. Anze Kopitar has rediscovered his scoring stroke, and Jonathan Quick has recovered from his injury suffered last season.
Kopitar leads the squad with a fantastic 20 points. He has eight goals already after scoring just 12 last season. Kopitar kind of needs to be the Kings' best offensive player, or at least close to it, for this team to succeed. So far so good on that front.
Likewise, Quick has to be a machine in net, and he has been. The two-time Stanley Cup winner boasts nine wins and a .932/2.29 slashline while facing 34 shots per game. The save percentage is well above Quick's career average of .916, so the Kings need to ride his wave of success as long as they can.
More from Editorials
I would give the Kings a better chance than the Knights at hanging on to their surprising start. This is a team with a championship-winning core. Blackhawks fans know that can go a long way at times.
Disappointment: Washington Capitals
We haven't heard much about the Caps this season since Alex Ovechkin posted six goals in his first two games. There's a reason for that: The squad has 17 points in 16 games, leaving it outside the postseason early on.
Now, this isn't a major disappointment like the Oilers, but the Caps are in the uber-competitive Metropolitan Division. An average start could burn them later, and for a squad that has had championship aspirations in recent seasons, that just won't do.
The main culprit has been poor goaltending. After a few years of Vezina-quality play, Braden Holtby has hit a skid. His .921/2.62 slashline isn't the worst out there, but if the season ended today, that .921 mark would be his worst since 2013-14.
But Holtby can turn things around. Maybe a bigger problem is the lack of supporting offense and a defensive work in progress.
Ovechkin and Kuznetsov have 18 points apiece, but after them, Nicklas Backstrom (12) and T.J. Oshie (11), things start to fall off. When John Carlson and Lars Eller are your fifth- and sixth-best point producers, something has gone wrong. Likewise, when you have first-year NHLer Christian Djoos on your first defensive pairing and Taylor Chorney on your second, it leaves a lot to be desired.
Washington is in the league's bottom 10 in team possession, so this average start could turn into an average season if coach Barry Trotz can't find an answer.
Surprise: St. Louis Blues
This is unfortunate, but it's the truth. The Blues were viewed as a team that could be entirely fine heading into the season. Then Robby Fabbri needed knee surgery, and people became concerned this wouldn't even be a playoff team.
Well, the Blues have responded to that with a Western Conference-best 27 points. They average 3.29 goals per game and have gotten major contributions from their top line.
When general manager Doug Armstrong managed to acquire Brayden Schenn for Jori Lehtera in the offseason, people figured St. Louis had won the deal. I don't know that anyone expected them to win it quite this hard.
The Jaden Schwartz-Schenn-Vladimir Tarasenko line has 60 points already this season, and only Schwartz is posting an outrageous shooting percentage at 22.5. That means this line could possibly be even more potent moving forward.
More from Editorials
The defense is still meh here outside Alex Pietrangelo, but the goaltending has been solid. Starter Jake Allen is at a workable .921/2.36 slashline, while backup Carter Hutton has been on fire (.946/1.71).
The Blues are probably going to go as far as their top line and goaltending take them. Right now, it's near the top of the league.
Disappointment: Chicago Blackhawks (minus the goalie)
Anyone who paid close enough attention this offseason had an inkling this team might not be great. Then it pulled the wool over fans' eyes with 10-1 and 5-1 blowout wins over Pittsburgh and Columbus to open the season.
Since then, the Blackhawks have looked exactly how some of us feared they might: old and slow. General manager Stan Bowman claimed he was going to improve that in the offseason, and besides getting Brandon Saad and Connor Murphy, I'm pretty sure he's failed.
Coach Joel Quenneville seems utterly baffled at how to fix a sputtering offense, and the players keep feeding us the same old lines about not being worried. Patrick Kane looks uninterested, Jonathan Toews has lost his briefly-discovered spark and Brent Seabrook is about ready to keel over. That's three members of what's supposed to be a championship core.
There could be big changes coming soon for the Blackhawks, but one area that definitely doesn't need improvement is in net. Corey Crawford is rocking a league-best start while playing behind a mostly clueless defense and some janky forward pairings. He's the only reason the Blackhawks aren't chilling with the Arizona Coyotes right now.
Surprise: New Jersey Devils
This team is still atop the Metropolitan Division. That's … unlikely, to say the least. But hey, when you have the first overall pick in a draft and add a highly sought after young defenseman as well, I guess good things should happen.
It's just surprising they've happened so early and frequently. The Devils were far and away the Eastern Conference's worst team last season with 70 points. They already have 20 in 15 games this season.
But when you look at the team's stats, it's easy to argue it shouldn't be that successful. The Devils are the fourth-worst possession team in the league at even strength, and after Taylor Hall's 18 points, there isn't much to write home about.
Will Butcher has 12 points, all on assists. That's nice. Nico Hischier has 10 points. Alright. Something called Jesper Bratt has 12 points. Huh? Then after Brian Gibbons' 10 points, things fall off the table offensively. The goaltending has been average at best, too. Cory Schneider (.918/2.96) may have surpassed his peak, and Keith Kinkaid (.903/2.88) is hardly a stellar backup.
So can these guys keep it going? All the stats point to no, but you've got to ride the wave.
Disappointment: Injuries in Anaheim
I'm not going to cry over unfortunate things happening to the Anaheim Ducks, but I also don't want to see players injured. And boy, do the Ducks have some injuries.
Ryan Kesler hasn't suited up this season after offseason hip surgery. Defenseman Cam Fowler has a knee injury. Ryan Getzlaf is set to miss at least two months after having surgery on a facial fracture. Patrick Eaves was diagnosed with Guillain-Barre syndrome, a rare disease in which the immune system attacks the nerves.
Forward Ondrej Kase and starting goalie John Gibson have also been banged up of late. That Anaheim is a wild card team right now is a major credit to their healthy players, but they have to be frustrated with their lack of healthy luck so far.
Surprise: Clayton Keller
This young forward briefly made his presence known on the NHL scene last season, contributing two points in three games with Arizona. The Coyotes are quite bad right now at 2-13-3, but it'd be hard to blame Keller for that.
The 19-year-old is fourth in the league with 11 goals, only trailing Nikita Kucherov, Ovechkin and John Tavares. That's some good company to be around on a pretty poor squad.
Keller is 5-foot-10 and in the growing mold of young but forceful forwards. He came up with a lot of potential but not much fanfare, due to his team. He's going to make people watch desert hockey, though, simply to see him play.
The Calgary Flames were a fun surprise pick this offseason for Western Conference champion contender. The team currently holds the first West wild card, but Bennett has had little effect on that.
After posting 36 points in 77 games two seasons ago and 26 in 81 last season, the gritty center has just one assist in 16 games this season.
Bennett isn't asked to be Johnny Gaudreau, but he's on the first season of a new two-year contract. The Flames can't like to see that a guy who posted 31 goals in his first two seasons has suddenly forgotten how to score.
Next: Blackhawks Can't Keep Trying To Relive The Past
Who are some our your surprises and disappointments through the first 20 percent of this NHL season? Let us know in the comments, or hit us up on Twitter or Facebook.