Chicago Blackhawks May Have Missed On Perfect Goalie Of Future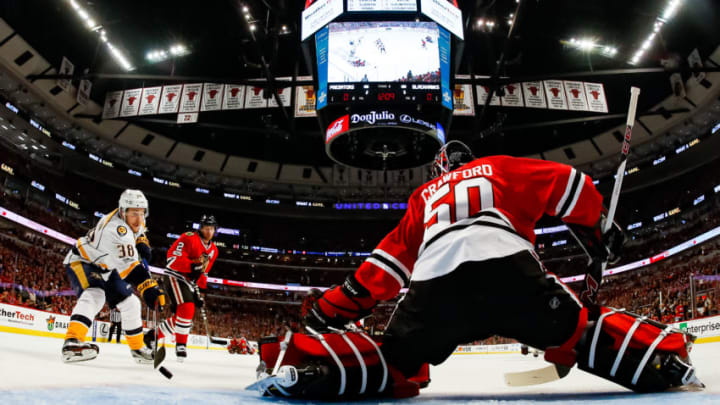 CHICAGO, IL - APRIL 13: Viktor Arvidsson /
CHICAGO, IL – APRIL 13: Viktor Arvidsson /
The Chicago Blackhawks had the opportunity to draft Boston University's Jake Oettinger with the 26th overall pick in the 2017 NHL Draft, but they traded down
The 2017-18 season has been a see-saw of emotions for Chicago Blackhawks fans.  It started with a bang, but has since been a mixed bag.  Questions about the defense and forward depth have all the sudden become a reality, leaving many wondering how the 'Hawks can compete with some of the high-flying teams around the league come playoff time.
A lot of people talk about the Blackhawks' "playoff window" and how much longer they can consider themselves Stanley Cup contenders.  It's true that there is a lot of talent still left on this roster, but I believe a decision will be made very soon about the direction of the franchise.
With two huge losses in Marian Hossa and Niklas Hjalmarsson, we're finding out that winning isn't just about scoring goals.  It's also about puck possession and defense.  With this team, it has shown that even if the Blackhawks score five, they might still let the other guys score seven.  And that's not a good formula for winning long term.
As loyal as we are as fans, we are all flawed in the sense that we see players for what they were and not what they are.  Similar to the way parents always see their grown kids as children.  But as we take several steps back and look at this Blackhawks team, it's as though they're using old parts on a new car.  The league is evolving faster than ever, and the formula that once worked for the 'Hawks just may not be the solution of today.
A lot of criticism has been given to Brent Seabrook about his decline in production, but he isn't the only one deserving of it.  Jonathan Toews, Duncan Keith and anybody else in "the core" has just as many miles on them as Seabrook does, and it has shown.
One player who has gotten better with age is Corey Crawford.  For years, Crawford showed that he is an elite goaltender, but it was always undermined by critics who discounted his success due to a top defensive unit.  Well, that unit is no more and Crow at times has been carrying the Blackhawks on his own.
Crawford's contract expires in two years when he is 34 years old.  His current cap hit on the Blackhawks salary cap is $6M.  It's possible that the Blackhawks extend, Crawford but it really depends on where they are as a team.  It seems like the 'Hawks are still trying to figure that out right now, but if they are in a rebuilding phase in two years they will need someone to take over for him.
BOSTON, MA – NOVEMBER 4: Boston University goalie Jake Oettinger is beaten for a goal by Northeastern University's Nolan Stevens during the first period. Boston University hosts Northeastern University in a men's college hockey game at Agganis Arena in Boston on Nov. 4, 2017. (Photo by Matthew J. Lee/The Boston Globe via Getty Images) /
Jake Oettinger
Over the summer, the Blackhawks hosted the 2017 NHL Draft at the United Center.  That day there was chaos with the news that Artemi Panarin and Hjalmarsson had been traded.  The Blackhawks probably didn't want to make a scene at the draft, so the news was announced earlier in the day.  The 'Hawks also made a point to not trade away their first-round pick in 2017 so they could make a top pick in front of their fans.
More from Editorials
The Blackhawks had the 26th overall pick, and it wasn't clear which player they were going to select.  The Montreal Canadiens selected Ryan Poehling, a center from St. Cloud State, at 25. Then the 'Hawks were on the clock.  The crowd was anxiously awaiting the selection until the PA announcer said the Blackhawks had traded the pick to Dallas and moved down to No. 29.
In the 26th spot, the Dallas Stars selected goaltender Jake Oettinger from Boston University.  Oettinger is a big goalie at 6-foot-4 but is very well poised.  He was ranked as the top goaltender in North America and was expected to be drafted in the first round.
Instead of taking a goalie, the Blackhawks selected Finnish defenseman Henri Jokiharju, a right-handed, puck-moving defenseman from the Portland Winterhawks of the WHL.  The Blackhawks also used their second-round pick on Ian Mitchell, who is a similar type of defenseman.
Are Blackhawks in transition?
If the Blackhawks decided to take Oettinger at 26, they could have let their prized goaltender develop at Boston University for a couple years, then made a decision on him when Crawford's contract expired.  The Blackhawks could've potentially cut $6M in salary and added their goaltender of the future with top-end skill to the lineup on an entry-level contract.
Jokiharju and Mitchell may not have that same opportunity lined up.  With Keith, Seabrook and Connor Murphy locked up for the next five years, it's hard to just hand the keys over to young players.  Plus there are players like Chad Krys and Luc Snuggerud who are at the AHL level now and who also have potential.
Entering the 2017 NHL season, many were concerned with the goaltender depth.  With Scott Darling signing in Carolina, there was no clear backup for Crawford.  But now with Anton Forsberg coming over in the Panarin trade and the signing of J.F. Berube, the Blackhawks have put a Bandaid on the depth problem.
They are also putting a lot of stock in 2016 third-round goalie Wouter Peeters, who is spending his first season in the USHL this year with the Youngstown Phantoms.
Next: Blackhawks Round-Table: Blame Game & Struggling Players
It will be an interesting couple of years to say the least, especially if the Blackhawks are not successful in the playoffs again this year.  In what seems like the final go at competing for a Stanley Cup for this group, there may be more major changes to come.  But it's never too early to start planning for the future.