Chicago Blackhawks Morning Links- Drought Ended, Barely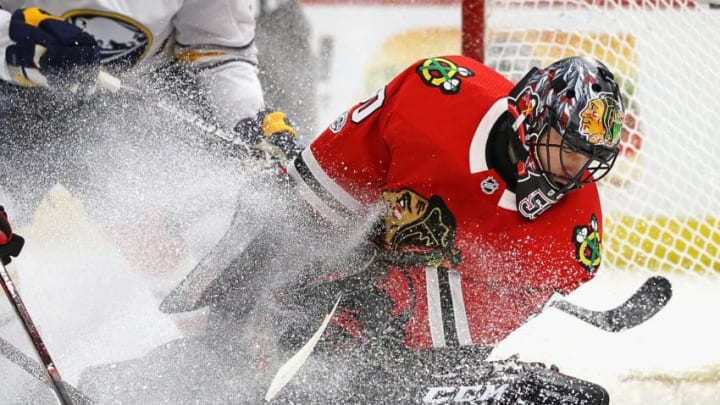 CHICAGO, IL - DECEMBER 08: Corey Crawford /
Good morning Chicago Blackhawks fans! The Chicago Blackhawks waited until the final minutes to pull out a win and end their 5 game winning streak. 
Well, that's not what was expected when the Hawks took on one of the worst teams in the NHL, but it's a W and some baby steps that hopefully lead to some more much needed wins.
Since I was working late, I got home just in time to watch Brent Seabrook take a really terrible interference penalty with 4 minutes and change left.  I was sitting there thinking about what we were all going to think and say when the Hawks lose to the Sabres on home ice.
Luckily for all of us it was Penalty Kill and not a powerplay that the Hawks were on, and down a man Gustav Forsling shot one threw the crowd right to Tommy Wingels stick for the tying goal.
The stat sheet says it was a very good game for the Hawks. They outshot the Sabres 51-28, but as they have for the last month they trailed for most of the game while never playing with a lead.
The Hawks can go through stretches where they are dominating action, but unlike in years past, they just can't seem to get the puck into the back of the net.  The big thing is it's the role players stepping up like the rookie Alex DeBrincat and the energy guys like Wingels and Lance Bouma.
Once again, the Hawks need the stars to shine.  Patrick Kane now has gone 3 games without a point and Toews only found the scoresheet with 4.5 seconds left when Forsling scored the game winner.
The losing streak is over, but it's barely over! Here are some morning links to start your day!
No matter what you have to commute (Blackhawks)
Vinnie Hinostroza bumped Ryan Hartman from the lineup on Friday (Sun-Times)
6 Chicago Blackhawks prospects named to World Junior rosters (The Rink)
What is Patrick Sharp's favorite Christmas tune (Madhouse Enforcer)
Corey crawford did return on Friday (CSN)
The NHL gives a Green light to Seattle and expansion (Bleacher Report)
It looks like the NHL Salary cap will be going up next season (Sportsnet)
Our old friend Artemi Panarin had a 5 assist night (Pro Hockey talk)
Who is better Malkin or Crosby (Puck Prose)