Chicago Blackhawks' Recent Win Streak Can't Afford To Be Misleading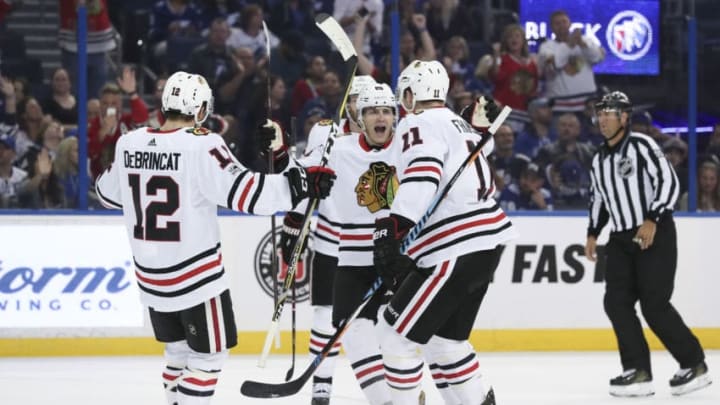 TAMPA, FL - NOVEMBER 22: Chicago Blackhawks right wing Patrick Kane (88) celebrates with teammates Cody Franson (11) and Alex DeBrincat (12) after scoring his second goal of the game in the 1st period of the NHL game between the Chicago Blackhawks and Tampa Bay Lightning on November 22, 2017 at Amalie Arena in Tampa, FL. (Photo by Mark LoMoglio/Icon Sportswire via Getty Images) /
The Chicago Blackhawks seem to be finding their grove after winning three straight games at home, just after a five-game losing skid. Although their opponents were weaker than most, this current win streak can't be a fluke if they're to save their season.
The Chicago Blackhawks have been improving over the past three games. They've scored three goals in each of their previous three wins, two of the games coming down to close decision in overtime. Despite the close games versus the horrid Buffalo Sabres and Florida Panthers, it's nice to finally see some extra points under the 'Hawks' belt.
Now, I know what you're thinking: "Oh, silly writer! You can't take these wins too seriously, look who they were facing!"
Now, that is a good point. However, this is hockey we're talking about.
Funny thing is, hockey is as mental as it is physical. Winning is a mentality. From what we've seen from the 'Hawks this season, that winning demeanor hasn't always been there. They've found some success in stretches, but it seems like the longer stretches is what tears them to pieces. After playing six games in nine days entering this month, that seemed to have gotten the best of them.
The 'Hawks fared poorly in that stretch, with a record of 1-3-2. It was obvious the team needed to come home, reevaluate and find itself once again. Oh, and many, many line changes to get fresh chemistry on the team, don't forget that.
More from Analysis
Coming home for this three-game homestand, playing a game every other night like they should be, really helped the team relax and play the hockey it is used to without players breaking their backs. Yes, they were against poor opponents, but the Blackhawks have been considered as much throughout the season as well.
Scoring may be turning point
This could be a great turning point for the team, especially for players who have been looking to contribute. That includes Tommy Wingels, who had two important goals during the homestand and ignited the fourth line past its boundaries as needed.
Not to mention, the big guys came up strong, as Patrick Kane notched an overtime winner and two assists, while Jonathan Toews and Brandon Saad also scored a goal and two assists each. Between the three of them, that's three goals and six assists in a three-game span. That's exactly what we should be seeing from them constantly, and hopefully that trend continues.
Now, the 'Hawks have a huge test ahead of them, facing the explosive Winnipeg Jets, who no one thought would be climbing the standings as they are of late. If the Blackhawks are to beat them, this winning mentality that is seemingly regained cannot fall short.
Next: Blackhawks' Barely Crack Power Rankings' Top 20
Sometimes smaller bites make the meal taste better. In this case, the 'Hawks are working their way through the crust right now, hopefully aiming to get a nice mouthful of what really tastes good: a win versus a top opponent in a division in which they haven't found much success.