Chicago Blackhawks' Forsberg Now Focus Of Offseason Trade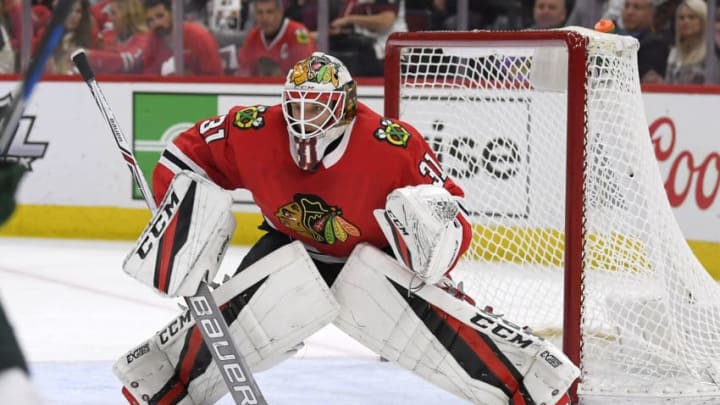 Debates continue on which team won the Artemi Panarin for Brandon Saad trade last offseason between the Chicago Blackhawks and Columbus Blue Jackets.   But now, there is another player involved in that trade who can tip the decision on who won.
The full extent of what was, at the time, a surprising offseason trade between the Chicago Blackhawks and Columbus Blue Jackets was as follows:
To Chicago: Brandon Saad                                         To Columbus: Artemi Panarin

     Fifth-round 2018 pick                                                                       Second-round 2018 pick
Not many thought of the importance of Forsberg as part of the deal at the time. But with Blackhawks goaltender Corey Crawford now down for an extended amount of time, Forsberg must be part of that discussion.  It's not just a Saad/Panarin comparison anymore.
Forsberg, 25, is in his first full NHL season.  Shortly after being traded to the Blackhawks, he signed a two-year, $1.5 million contract.  The cap hit is $750k through next year.
This year, Forsberg's numbers are not good, but to be fair, the players in front of him have not helped much.  So far this year, he has a  3-7-3 record, with a 3.15 goals-against average and a .907 save percentage.
He is giving up more than three goals a game, but he is also facing 32-plus shots a game.  At least a third of those are prime chances.    That is asking a lot from your goaltender night after night.
Forsberg has looked better throughout the year as he gets more comfortable between the pipes.  Prior to Saturday's disaster against the Islanders, Forsberg had posted a 2-1 record with a 1.67 goals-allowed average and a .943 save percentage.
More from Editorials
The problem lies within him and his inexperience, but the chemistry of this hockey team is nowhere where it needs to be. As such, coach Joel Quenneville's time may be coming to an end.
So, who won the Saad/Panarin trade?
The jury is still out on this.  Panarin, in 47 games, has 38 points (12G 26A).  Motte, in 30 games, has five points (3G 2A).  Saad, in 46 games, has 23 points (13G 10A).  We already know Forsberg's numbers.
Columbus will receive a second-round pick from the Blackhawks in the 2018 draft, while the Blackhawks will receive the Blue Jackets' fifth-round pick in the 2018 draft.
On paper, it looks like Columbus has the edge in this deal.  Going forward, it will depend on what those picks provide for those teams.  Forsberg could be the key to this trade.  It may take another year or two to see if it pans out.
Forsberg is getting some good experience right now with Crawford out with an upper-body injury.  Unfortunately, he is doing it with a bad team in front of him.  The Blackhawks find themselves in a bad situation.
Too many contracts are long, expensive and have no-trade clauses.  It makes it difficult to make moves and clear salary cap space when your team gets older and no one wants those contracts.
Next: Could Declining Blackhawks Deter Sikura From Signing?
Regardless if Panarin was still here or not, the problems that this team has goes way beyond him and the absence of Crawford.