Stanley Cup Playoffs: Vegas Golden Knights Deserve All Their Success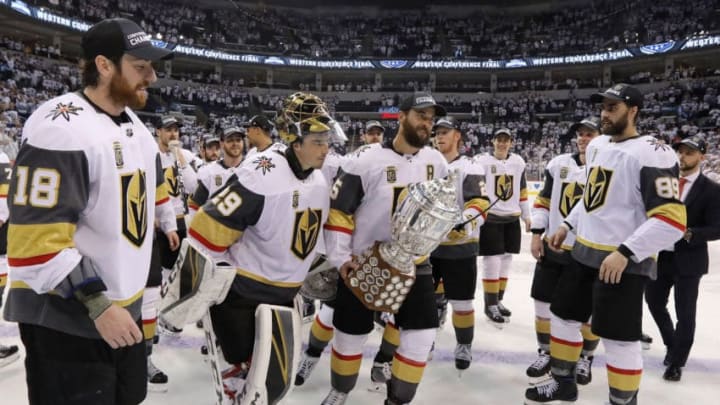 WINNIPEG, MB - MAY 20: Deryk Engelland #5 of the Vegas Golden Knights celebrates with the Clarence S. Campbell Bowl after defeating the Winnipeg Jets 2-1 in Game Five of the Western Conference Finals to advance to the 2018 NHL Stanley Cup Final at Bell MTS Place on May 20, 2018 in Winnipeg, Canada. (Photo by Jason Halstead/Getty Images) /
The Stanley Cup Final begins tonight, and there are plenty of NHL fans cheering for the Washington Capitals to stop the Vegas Golden Knights' magical run. Here's why you shouldn't hate the Golden Knights as much as you might.
If you are a hockey fan who can never take in enough NHL talk, you likely find yourself digging through hockey Twitter, hockey blogs and NHL rumor sites quite a bit in your free time. There's a good chance this person is you, as you are reading from a Chicago Blackhawks fan site right now.
Being a mega hockey consumer myself, there has been something bugging me since the Vegas Golden Knights advanced to the Stanley Cup Final after knocking off the Winnipeg Jets last week: People really don't think the Knights deserve to win.
If you have a rooting interest in the Washington Capitals, I have no problem with you cheering for the team from our nation's capital. The issue I have is this idea that Vegas being an expansion team means it doesn't "deserve" a championship. That in the 2017-18 NHL season, this team hasn't done enough to have earned a title.
Here's a deeper look at this team that is not even a year old yet and why the Knights shouldn't be written off because they are "too new" or "haven't gone through hard times."
Early perception
First off, there are plenty of fans out there who are making the claim Vegas is only in the position that they are in because the NHL allowed for them to create a "super team" in the expansion draft last summer, as seen in one of the example tweets above. Hilarious to think what the difference a year makes.
A little less than a year ago, these were the tweets and stories on websites we were seeing during and after the expansion draft:
Wow the Golden Knights Are Going To Be Bad
Vegas Golden Knights Are Going to Suck
Oh, and a fun one from a blog for the team that has to beat them in the Cup Final:
Honestly, this is not to call out any of these bloggers and twitter users. This was the majority across the hockey social world. This includes Blackhawk Up, where we made season predictions for 2017-18 season and none of our writers gave the team a fighting chance. This is only to give an idea of the general thoughts going into the season about this Vegas roster.
The Golden Knights' run is not just unlikely because they are an expansion team; it is unlikely because the team that was being announced on June 21 of last year did not seem like a team that could compete in any way, shape, or form in the NHL. They seemed destined for mediocrity. But now they are four wins from a championship.
The staff and players
There were certainly highlights to the Golden Knights' expansion draft last summer. Marc-Andre Fleury was clearly a better goalie add than most expansion dreams could dream of finding. James Neal was a veteran forward who was coming off a long playoff run with the Nashville Predators. David Perron was a veteran with several different playoff appearances and averaged 0.58 points per game in his career.
But the rest of the roster looked like a mixture of youth players and wild cards who would be a messy blend. The thought that not one, not two, but a majority of these players would perform over expectations was not something anyone expected.
More from Blackhawk Up
William Karlsson came to Vegas after two full seasons in Columbus where he showed some talent with the Blue Jackets, but was in no way considered a steal during the expansion draft. In 162 games with Columbus from 2015-16 to the end of 2016-17, Karlsson scored 15 goals and added 30 assists. He was playing less than 14 minutes a night on average.
Fast forward to this past season, Karlsson was a superstar for the Golden Knights. He scored a team-high 43 goals in the regular season and added another 35 assists. His 43 goals and 78 points not only led all players in Vegas, he ended up third in the entire NHL in goals scored behind only Alex Ovechkin and Patrik Laine.
But the story doesn't end with Karlsson. Here is a look at several Golden Knights players who played above anything they were expected to be going into last season:
2016-17 stats: 75 GP, 30 G, 21 A, 51 P, minus-21, 16:55 ATOI
2017-18 stats: 77 GP, 27 G, 48 A, 75 P, plus-36, 17:30 ATOI
2016-17 stats: 80 GP, 15 G, 22 A, 37 P, minus-13, 18:21 ATOI
2017-18 stats: 67 GP, 22 G, 38 A, 60 P, plus-31, 17:55 ATOI
2016-17 stats: 72 GP, 15 G, 11 A, 26 P, plus-5, 13:49 ATOI
2017-18 stats: 76 GP, 29 G, 26 A, 55 P, minus-16, 17:22 ATOI
2016-17 stats: 61 GP, 6 G, 7 A, 13 P, 0-plus/minus, 15:49 ATOI
2017-18 stats: 82 GP, 10 G, 31 A, 41 P, minus-4, 19:21 ATOI
2016-17 stats: 6 GP, 0 G, 0 A, 0 P, minus-3, 10:42 ATOI
2017-18 stats: 78 GP, 15 G, 22 A, 37 P, plus-3, 15:15 ATOI
2016-17 stats: 60 GP, 3 G, 14 A, 17 P, plus-22, 15:29 ATOI
2017-18 stats: 76 GP, 5 G, 31 A, 36 P, plus-19, 22:14 ATOI
These six players (along with Karlsson) were the core of the Golden Knights that no one expected to explode. These were the ragtag players whose previous team left out of their future plans. The teams exposed these players in the expansion draft or traded them away to Vegas to protect a different player from being taken in the expansion draft. They were the Bad News Bears or Little Giants of the NHL.
But every Bad News Bears or Little Giants needs a Walter Matthau or Rick Moranis coach to lead the team to victory. And the Golden Knights got a fantastic coach to lead this team in the right direction in Gerard Gallant, a coach who fit right in with a group of players who were given up on by their former team.
Gallant has played and coached in hockey and the NHL since 1985. His most recent endeavor before coaching Vegas was as head coach of the Florida Panthers. Having been fired by the Panthers, you would assume his tenure was anything but successful. You'd be wrong.
The season before Gallant took over the Panthers, the team was 29-45-8, good enough for 66 points and the second worst record in the NHL. But upon Gallant's arrival, the team started to improve. In Gallant's first season (2014-15), the team finished 38-29-15 for 91 total points.
More from Editorials
Heading in the right direction, Gallant then led the upstart Panthers to a 47-26-9 record in 2015-16, worth 103 points and the best regular-season record in Panthers history. The team was beaten by the New York Islanders in six games in the first round of the playoffs, but Florida seemed like a team on the rise.
However, after general manager Dale Tallon moved to executive vice president duties with the Panthers, new general manager Tom Rowe fired Gallant the following fall after the Panthers got out to a slow 11-10-1 record.
Gallant ended his tenure with Florida with a 96-65-25 record. Florida giving up on Gallant ended up being Vegas' gain, and he is now one of three finalists for the Jack Adams Award for coach of the year.
Gallant and all the players previously mentioned should not be considered the wrong guys to cheer for just because they are on an expansion team that hasn't experienced playoff failure yet. Rather, they should be cheered on for becoming a successful and fun team to watch when experts and their former teams didn't believe in them.
Summary
Just because the Golden Knights were a ragtag bunch of players and staff members who didn't seem like they would have a chance in the world of being successful this year does not mean you need to cheer for them in the Stanley Cup Final. But, likewise, just because this is a new franchise does not mean you shouldn't cheer for them either.
I can completely understand the argument that you would like to see Alex Ovechkin win a Stanley Cup. I can definitely understand why you would want to see Washington, D.C., finally get a championship in the four major sports after a very long drought. But there are plenty of reasons to cheer for Vegas as well, and the Golden Knights winning the Stanley Cup would not be a stain on the NHL.
Vegas winning the Stanley Cup would be a Cinderella story of a forgotten-about group of players that bonded under their head coach and become the champions of the NHL. Vegas may not have had to go through the heartbreak of playoff defeats, and there may not be a star like Ovechkin winning his first Cup if Vegas wins, but it certainly does not mean they are not deserving.
I used to get upset when I would hear that the Blackhawks didn't deserve to win a Stanley Cup in the years following their 2010 Cup win — because the team had won recently, they didn't deserve another. The fact is the best team will win the Cup. Recency bias, lack of hardship or inexperience don't matter in winning Lord Stanley's ultimate prize.
Next: 'Hawks Developing Talent In Rockford
The best hockey team gets to the playoffs and wins 16 games. It doesn't matter what city they are from or what big names are on their team. So, cheer away for the Capitals if that is where your rooting interest lies. But don't for a second think this Golden Knights team doesn't deserve to be here or to win it all.